Vegas tradeshow signs and banners are being displayed in large numbers at the event venues. It seems that Las Vegas is a major destination for trade shows and conventions. Thousands of businesses and merchandisers come to Vegas to display the newest products and innovations. These businesses love to come to Vegas for these events. Not only are Las Vegas tradeshows successful. There is so much to do before and after the show. Las Vegas is known as a entertainment and gambling city.
There are large convention venues in Las Vegas. The biggest is the Las Vegas Convention Center with over 2 million square feet of space to hold the biggest events. So this facility is so large. It can actually have several conventions and events going on under one roof at the same time. The other 2 venues have over one million feet of space to hold conventions and trade shows. Many Las Vegas banners and tradeshow signage are needed for these events. Since many of the vendors prefer to have their trade show signage made in Vegas. So not only does this save money on costly shipping charges. It also makes sure that the signs and banners they ordered will be in Vegas when they arrive. So often the shipping carriers do not deliver the signage on time or it shows up damaged.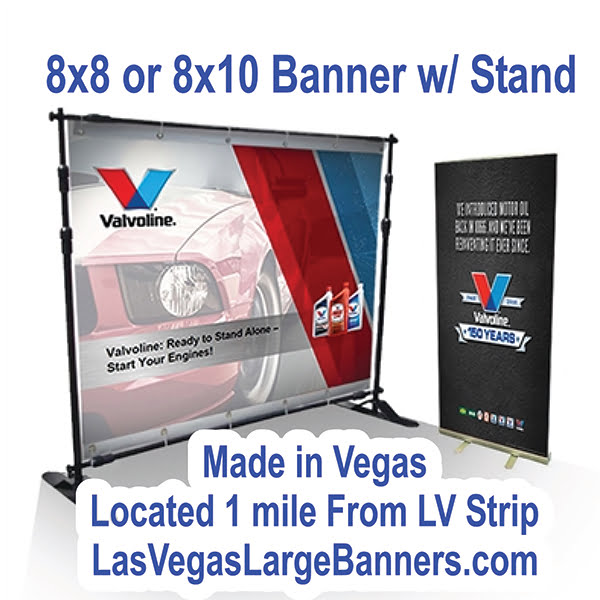 Vegas Tradeshow Signs and Banners Can Be Rush Printed
So often shipping companies deliver damaged signs or don't deliver in time. So in these cases, rush trade show sign printing is needed to make the signs and banners Vegas. Some of the most modern sign companies are in the city of La Vegas. These sign companies are generally located near the convention venues for easy pick up of the signs. They can also have the Las Vegas banners and signs delivered to your location.