Types of convention signs are numerous at the Las Vegas conventions. There re a wide variety of convention signs to choose from to assist you in having a great convention experience. In this article, we are going to explain some of the biggest and most popular trade show and convention signs used.
The convention business is huge in Las Vegas. Millions of people from all corners of the word come to Las Vegas to attend these events. Thousands of companies and vendors display the newest product lines along with the newest technology. All these companies are trying to get your attention to market their products. These conventions can be quite large. The Consumer Electronic Show brings a few hundred thousand interested people. These people are all coming to see the latest digital technology.
So Las Vegas has built three large convention venues to attract business. The Las Vegas Convention Center is the biggest of them with over 3 million square feet of space. The smaller convention venues, the Venetian Expo and Mandalay Bay Convention Center have over 1 million feet of floor space. All these facilities are state of the art and modernized. These convention venues are so large that they actually can hold several events at the same time under one roof.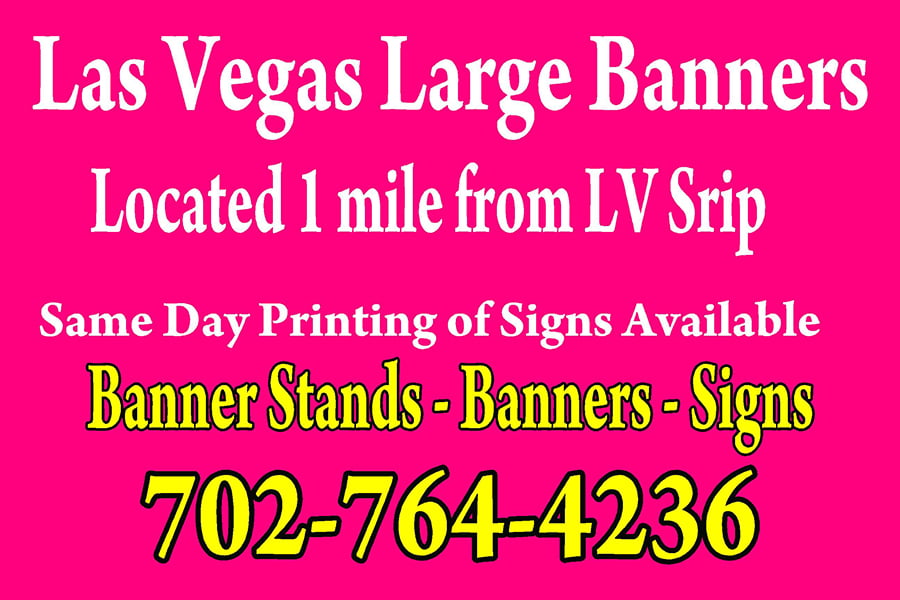 Examples Of Types Of Convention Signs
1. Banners
One of the most popular types of convention signs is vinyl banners. These vinyl banners are cheap in price and very versatile. The custom banners can be made to any size. The vendors and companies will use them for backdrop banners in many cases. So this is where they print a large 8×10 backdrop banner and place it at the rear of their display booths. So this way attendees see it as they walk by. The backdrop banner can then be used as reference during the sales presentation and help answer questions. Las Vegas banners can also be used to help promote products and services at a cost effective rate.
2. Pop Up Displays
Pop up displays are known as retractable banner stands. They are a go to choice for many exhibitors. They are very easy to set up and take down. The retractable banner stands are self standing, which allows them to be placed anywhere. The retractable banner stands come in many different sizes to meet marketing needs. The pull up banners come in economy and deluxe versions. The banner stands can last a long time and can be used at several more events. However, many times the pop up displays are used for one event and then simply thrown away. Double sided banner stands are also available. So they can be placed in aisles so that people approaching from either way can see them.
Foam Board Signs Are Also Popular
Foam board signs are foam boards with a paper outer coating that allow the foamboard sign to be printed on. The foam core signs can be custom made to any size. Also, double sided foam board signs are also available. Many times a company at a show will use different languages on their convention signage. One side in English and one side in Chinese or Spanish, etc. So this allows people of different countries to share in your sign experience.
The foam board signage can be printed in full color. Meaning that foam board printing allows for multiple colors to be printed on your sign. So this includes printing of logos, pictures and background images. The foam board after printing is then laminated to help protect the print against minor damage.
Custom table cloth signs are also used quite extensively at the conventions. The businesses will place these table cloth signs on top of tables with their company name or logos on the. So this way as people approach, your convention booth is easily identifiable. The tablecloth signs can be any color. They are great for helping brand your business. They are machine washable . So after every event, you can simply wash them and they will look fresh and new for the next show.
How To Design A Successful Convention Sign
The key to successful convention signs is that they get attention. People at conventions have been walking around all day and speaking to people. They are tired and you need to make your signs simple and appealing. Using top quality pictures is a must. Nothing looks worse than looking a a picture that is pixelated and trying to sell it. A good quality image reflects on the quality of the product. So it also reflects upon your business. As the signs will help brand your business.
The text being used needs to be clear and concise. The text needs to be easily readable. As people will not stand around trying to figure out what you have written. Keep it simple and to the point. The font used also needs to be easily readable.
The choosing of colors for your marketing signs is very important. Attendees at the convention will be attracted by vibrant and bold colors. These people can see these bright colors from far away. However, the colors being used need to be in sync with what you are promoting.
The size of the convention sign also has a lot to do with success. Comparing a small banner to a large banner, the large banner will always draw more attention. Be careful of the spacing around your signs to also make sure that they show well.
Conclusion
Picking the right types of convention signs for your convention booth will help make your event a success. So whether you need foam core signs, table cloth signs or retractable banners, these signs can be made by local Las Vegas sign companies. Businesses from all over the world will simply order their signs from one of the local sign stores and pick them up when they arrive. or the signs can be delivered to your hotel or event site. So this save on expensive shipping costs. It also guarantees your signs and banners will be ready in Vegas when you arrive.