Convention display signages Vegas can get you those signs and banners needed for your convention booth. The significance of well designed display signage cannot be overstated. Convention or trade show display signage is a powerful tool that can make or break your presence at an event. It serves as the initial point of contact between your company and the attendees at your event.
So thousands of vendors and companies from all over the world come to Vegas to display their goods and services. So millions of interested parties from all over the globe come to Vegas for these events. They come to attend so that they can see the latest technology and products hitting the markets. They want to establish contact with the companies and take their leads back home with them. So they can be the first to market them in their area. Many convention signs and convention banners are needed for these events.
There are three very large convention venues in Las Vegas. The Las Vegas Convention Center is the biggest of them all. It has over 3 million square feet of floor space to hold the biggest conventions. The other two event venues have over one million square feet of floor space to hold large events. All these facilities are tied in with support industries to make your event a success. Also, Las Vegas strip casinos and hotels have meeting rooms with thousands of square feet of space to hold conferences and other smaller trade shows. There is so much to do in Vegas that people love to have their events held in Las Vegas Nevada.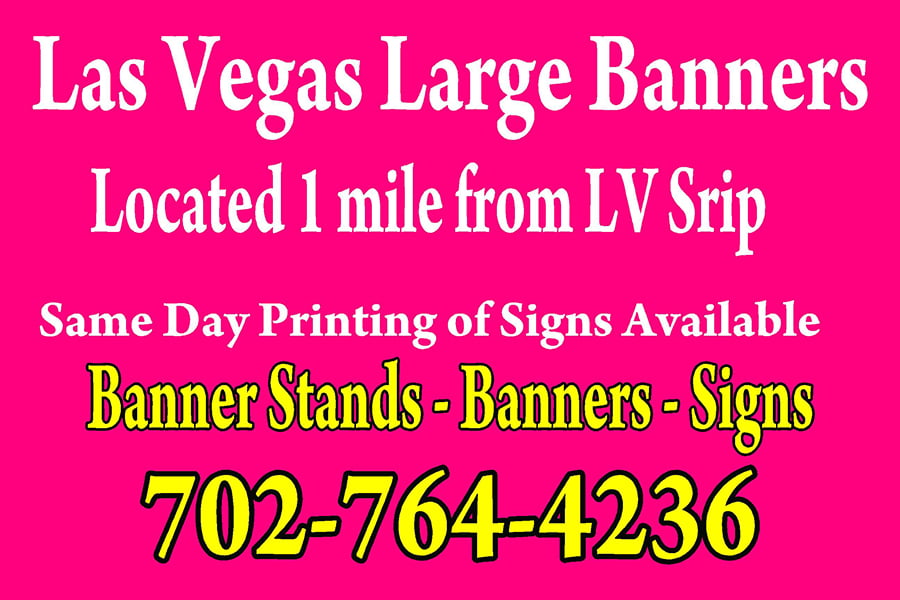 There Are Many Types of Convention Display Signage Vegas To Choose From.
Table Cloth Signs are table cloths that are printed with your logos or company name. They will place these table cloth signs over a 6ft or 8ft table and cover them. The table cloths can be printed in any color and will usually have a company name printed on the front and on the sides. So this allows people to see who you are as they approach your convention booth. The tables are great for placing literature or small signs on top.
Foam Core Board Signs are foam signs that have a outer coating made with paper. The foam board signs are light weight and can be made in a multitude of sizes. Common sizes for table tops are 16×20 foam board sign and 18×24 foam board signs . Larger 36×72 foam board signs and 48×96 foam board signs are also available. Some companies like to place these large foam core signs on stands and use them like a banner stand.
Retractable Banners are a big hit with the companies displaying at the conventions. These portable banner displays are self standing signs. So they can be placed anywhere as they require no support. The banner graphic rolls up into a metal case and pulls straight up. It is held up by a telescopic pole. These retractable banner stands come in many sizes to meet your marketing expectations. The pull up banners also come in economy and deluxe models. So while the banner stands can last a long time and be used at many events. Some companies use them for one show and throw them away. So they use the economy stands and save money.
Las Vegas Banners Are Probably The Easiest and Cheapest Convention Signs.
Las Vegas banners are needed for these events. Utilizing simple vinyl banners is a great way to get noticed. These vinyl banners can be used in many different capacities. I have seen 10ft tall banners by 100 feet long being displayed from the rafters of the convention venues. So you cannot help but see a vinyl banner that big as you are walking around. The large banner is a dominating sign. But in most cases, vinyl banners are used as backdrop banners at these events. They are 8ft x 8ft banners, 8ft x 10ft banners and are being placed at the back of convention booths.
So this way as people are walking by, they can see what you are selling. It is a visually stimulating way to bring customers into your display booth. Once the attendees are inside, you can use the large backdrop banner as a reference during your sales presentation. So the backdrop banners can be set up easily without the expensive union labor. These large banners use an adjustable banner stand to hold them up.
The Las Vegas banners are printed on a 13 ounce vinyl banner material using solvent inks. So these inks are designed to bring out the bold and vibrant colors of your designs. The banners can be finished with hemming and grommets or pole pockets.
Designing Your Trade Show Signs Is The Key To Success
The key to designing signs is to understanding your audience and goals. Are you aiming to generate sales leads ? Introduce a new product line or reinforce brand awareness? So make your marketing message signage to cater to your customer's needs and wants.
Simplicity is also a key in designing good convention signs. Your message needs to be clear and concise. Do not clutter your sign with pictures and colors that are not supportive of your products or branding. Choose easy to read fonts and text. Do not use complicated or abstract pictures. Make your sign simple. As the attendees are looking at many different convention booths and you want to make it easy for them.
Convention signs are a glimpse into your brand's being. It's your chance to make a memorable first impression to get the customers interested into your products. So you need to leave a positive, lasting impact that attendees will carry with them long after the event concludes. So using QR codes is also suggested. Attendees like interactive signage. And they can save your company information from the QR code.
Las Vegas has many sign companies willing and able to assist you in obtaining your signage. So give one of the local signs shops a call today and order your signs in advance. So they can be delivered to your hotel room or convention venue.