best trade show banners will get you the best signs needed for your trade show event. The trade shows are your way of getting new customers and establishing relationships. Vegas trade shows are a dynamic event where businesses showcase their products and services. These events are big business in Las Vegas. As millions of people flock to Southern Nevada every year to attend these shows. These interested people want to know what the latest products and services are.. Amid the sea of competitors vying for attention, a well designed trade show banner can be your secret weapon. So as to stand out and make a positive impression. So with your trade show banner you can establish long lasting business relationships.
First impressions are very important and trade show attendees are often overwhelmed by the visual stimuli of all the signs and banners at an event. A strategically designed Vegas banner with stimulating visuals is the first step towards grabbing their attention. Utilizing vibrant colors, high quality product images, and bold text helps create a visually appealing banner. This visual banner will get people walking by your trade show booth to stop and ask questions. Which is the purpose of doing a trade show.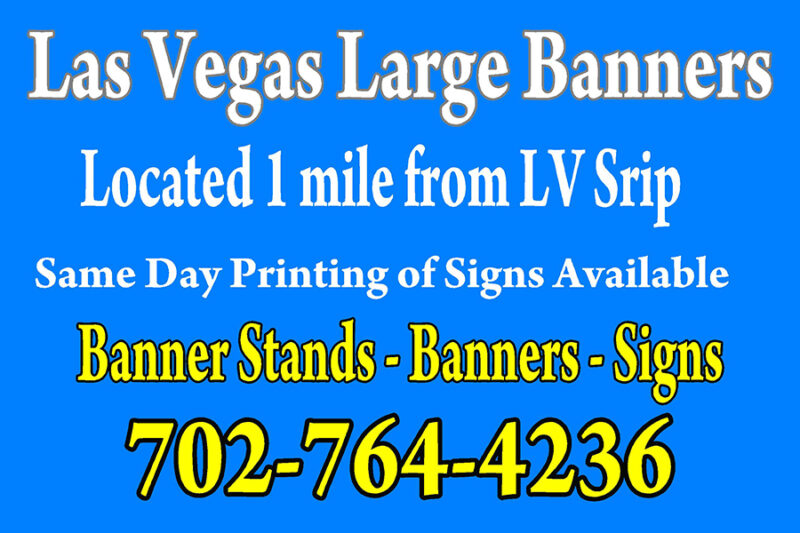 Best Trade Show Banners Are Sometimes Designed Very Simply
Las Vegas trade show banners key to success is brevity. So your Vegas banner should convey your message in a concise and clear manner. Craft a compelling headline that encapsulates your brand's essence. Or shows off your product highlights. Use minimal text to make it easy to read. As a visual picture is faster to comprehend than text. A few well chosen words can be more impactful and easier to understand.
Your trade show banner is an extension of your brand, and maintaining consistency is vital. Align the design and colors to your existing branding elements. This reinforces your brand's identity and helps attendees connect the dots between your banner your companies marketing.
Using top quality graphics and images is a must. Blurry or pixelated visuals can create a negative perception of your brand's professionalism and attention to detail. Go for sharp and clear images that showcase your products and services that bring out the best in your products.
The Best Trade Show Banners Are Compelling and Make The Customer React
A trade show banner without getting a response is a missed opportunity. Your Vegas vinyl banner should be compelling and make the customer want to ask questions.
Beyond the standard vinyl banners, consider using innovative materials that capture attention. Fabric backdrop banners, trade show pop up displays, or other signage can create a sense of intrigue. And help your booth to stand out from the competition. There are many competitors at a trade show and your signage must intend to differentiate you from the rest.
Trade show banner printing is a blend of strategic design, concise messaging and maintaining your company branding. A well made banner captures attention, communicates effectively, and leaves a lasting impression. Incorporating these key elements into your Vegas banner design. You can create a powerful tool. So that helps you stand out amongst your peers at these events.