Las Vegas table cloth signs are being used at conventions and trade show events. Vendors and companies like to use these custom printed table cloths to place over six foot or eight foot tables. The custom table cloths help easily identify your company brand and identify who you are. So when you rent those scratched and ugly tables for an event. These impressive custom printed table covers fit right over the tables.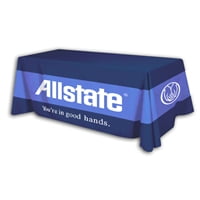 How Are Las Vegas Table Cloth Signs Made ?
Custom printed table covers are printed on a polyester material. The table cover signs can be three sided or 4 sided. The three sided table cloth allows the table to be draped and somebody to sit behind it. So this allows for your feet to fit underneath the table. The four sided table cloth is great if you just want to use it as a prop to place items on for display.
So these custom table cloth signs can be printed in any color. They are full color printed table cloths. So full color means you can have as many colors printed on the table cloth as you like. Usually the table cloth is printed with your company logo in the front and on both sides of the table cloth. So this allows for people to take notice of you as they approach as well as when they are in front of your display booth.
Many vendors and companies will use a custom printed table cloth and a few retractable banner stands for their display booth. This allows for a simple set up that requires no union labor assistance. So this saves a lot of money when displaying at an event or show. Contact your local Las Vegas sign company today for more information on these great signs. So standard turnaround time is about 3-4 working days.