Vegas custom table cover signs are great for covering those scratched tables at events and shows. So many times the tables that are provided by the hosting company are scratched and ugly looking. So many vendors and companies have learned to have a custom printed table cloth made for the event. These table cloth signs come in the popular 6ft and 8ft sizes. They can be made to cover three sides of the table or all four sides.
So generally a company will have their logo printed on the front of the table cloth and on the sides of the table cloth sign. This allows everybody to see your company name or logo from the sides and looking straight at it.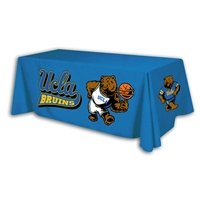 Vegas Custom Table Cover Signs Come in Different Sizes
Las Vegas table cloth signs come in any color you want. These table cloths are made to order. So they can be full color. So that means you can have as many colors as you like printed on them. In addition you can have your company name and logo printed on them as well. The table cloths come in the standard 4ft, 6ft and 8ft sizes to cover the most common tables. The Las Vegas table cover signs are generally three sided. So this allows you to sit at the table and place your feet underneath the table. These custom printed table cloths can also be made four sided. So this totally covers the table and allows you just to put items on top for display.
The custom Vegas table cover signs are not expensive. The 8ft three sided table cover printed to order costs $160.00. So this can be completed in just a few day turnaround. Your local Las Vegas sign store will have more information on these custom table cloths.