Vegas trade show fabric banners are popular at event venues in Las Vegas. Las Vegas fabric banners are popular becasue they are wrinkle free and display very well. While vinyl sign banners are cheaper in price and more durable. The fabric display banners offer a more contemporary look that is most impressive. So the fabric banners can be made into custom sizes to meet your sign display needs. The fabric banners are printed on a 9oz polyester fabric material in full color. So this means you can have as many colors on your fabric sign banner as you like. Also you can have pictures and images printed on the banner.
Turnaround on Vegas fabric banner printing is 3-4 days. So you need to plan accordingly. In addition the 8ft and 10ft trade show displays take about the same turnaround time.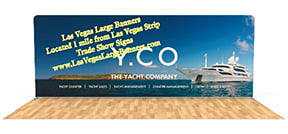 Vegas Trade Show Fabric Banners Make Excellent Step and Repeat Banners
Fabric step and repeat banner signs are very impressive at trade shows and conventions. These large step and repeat banners are great for printing your company name or logo on them. So then people take pictures of themselves against the trade show backdrop display. So from whatever angle the picture is taken, the name or logo can be seen in the background. if you add in a showgirl, many people at the events and shows will want their pictures taken. When they go back home, your company name and logo will be remembered. These convention step and repeat banner signs can be made in the popular 8ft long and 10 ft long sizes. They are easy to set up with an adjustable banner stand.
Fabric banners can be found at local Las Vegas Signs shops. Give them a call today and see how these impressive fabric signs can help you.