Las Vegas 20ft trade show display is available in Las Vegas. So these long 20ft straight fabric trade show displays are great for delivering a marketing message, The fabric banner used on the display is wrinkle free and keeps tight. These large impressive fabric backdrop displays are very impressive at one of the convention or trade show venues.
So hundreds of companies come to Las Vegas yearly for the many conventions and trade shows. So this attracts millions of people from around the world. The best and biggest conventions in the world are held in Las Vegas. Many signs and banners are needed for these events. Fabric pop up displays are also very popular along with retractable banner stands.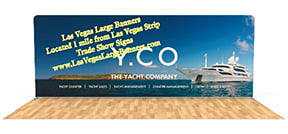 Vegas 20ft Trade Show Display is Impressive
The Las Vegas pop up displays take about 3 or 4 days for completion. So you need to factor that in when ordering your pop up display. These fabric trade show displays are printed on a polyester material that allows for machine washing. So that allows the fabric to be washed after an event so that next time it is fresh and new looking. Also the fabric can just be ordered instead of the whole package if you change your marketing message. In these tough economic times, who does not want to save money.
The 20ft backdrop signs take about 10 minutes to set up with two people. The frame assembles and then the fabric material is pulled over the frame and zipped tight. The pop up display comes with a travel bag. So easy transport to the event is easy. Best of all it requires no union help at their outrageous prices.
So contact your local Las Vegas trade show sign company for more information. They will be glad to assist you with all your signage needs for conventions and trade shows.