Vegas 20ft backdrop display signs are being used for the back of display booths. At the many events and shows in Vegas. It seems that everybody has a backdrop banner or backdrop sign. In order to get people's attention. It is actually a cheap way to let everybody know who you are and what you are promoting. After people have been walking the events for hours, they get tired. A nice visual sign helps them understand what you are about.
The trade show backdrop display signs come in many different sizes to meet your needs. Some of the more common sizes are the 8ft backdrop display sign, the 10ft backdrop display sign and the large 20ft backdrop display banner sign. This 20ft tradeshow display sign is easy to set up. So it comes with all the hardware for set up, fabric wrinkle free banner and carrying case. The set up time for this large backdrop display is about 10 minutes for one or two people. The tradeshow sign can be simply walked into the venue because it comes with a carrying case.
The fabric banner that comes with the display sign is a full color banner. So this means you can print as many colors on the banners as you like. You can print your company logo and your line of products on the tradeshow fabric display as well. The fabric material is wrinkle free so it gives off a very professional appearance. The fabric banner is machine washable. So after every use you can simply have it cleaned and it will look new and fresh for the next show.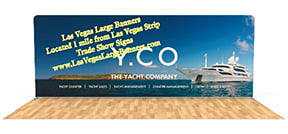 Vegas 20ft Backdrop Display Signs Can Be Ordered And Picked Up In Vegas
So just contact a local Vegas sign shop about these backdrop signs and they will have it ready for you when you arrive in Vegas. There are many sign shops near the convention venues that specialize in trade show signage and convention signage.