Types of tradeshow display signage are plentiful. Many different types of signs are used at the trade shows and conventions held in Las Vegas. Each type of sign has a different purpose. The one thing in common is that the trade show signs. Are designed to bring attention to your company and display booth.
Las Vegas has a strong convention business. Each year thousands of businesses and vendors descend upon Southern Nevada to showcase their products and services. So these shows and events attract millions of people from all parts of the globe. So they are interested in learning about the newest products and technology available.
Trade shows and conventions are great opportunities for businesses to showcase their products, services, and brand their company. One of the most crucial parts of a convention or trade show is too get your signs and banners noticed by the attendees. So these signs not only attract attention but also convey important information about your company and products.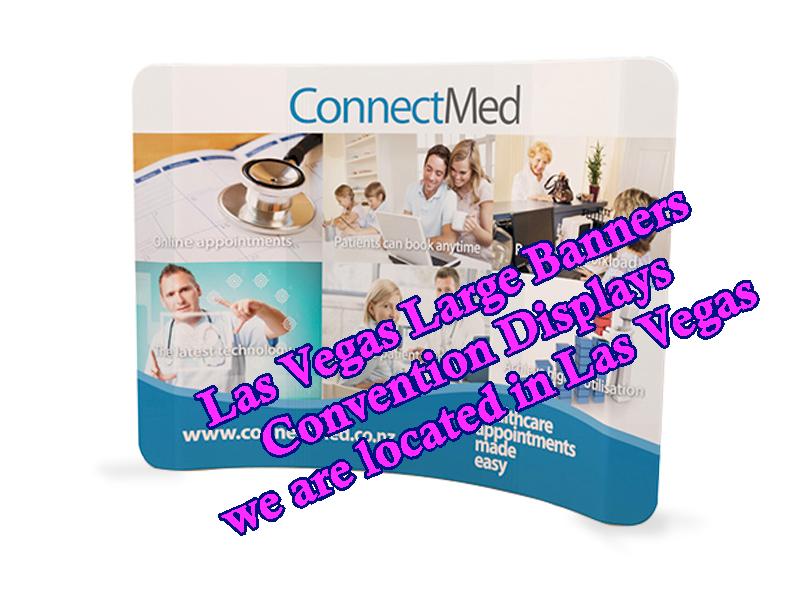 What Are The Popular Types of Tradeshow Display Signage ?
Banner stands are highly versatile stand up signs. These pop up displays can be placed anywhere because they are self standing. Which allows them to be easily moved and placed in advantageous viewing positions. They come in various sizes and styles. Including retractable banner stands and X banner stands. Banner stands are easy to transport, set up and take down. So thus making them a convenient choice for exhibitors. The banner stands come in sizes ranging from about 2ft wide to around 5 feet wide. So they also come in deluxe models and economy models. The telescopic poles allow for height adjustment of the banner graphics. The X stand banners allow for a easy set up as well. The X stand banners are easy to replace since the banner graphic is hooked on to the hooks in the four corners of the sign.
Pop-up displays are larger and more substantial than banner stands. Offering a visually appealing backdrop for your booth. These trade show displays typically consist of a collapsible frame covered with a graphic panel. Pop-up displays are great for showcasing product images or branding your company. They come in various sizes and configurations, allowing for customization to suit your needs.
Fabric Tension Displays Are A Hot Commodity At Trade Show Events
Fabric tension displays use a printed fabric stretched over a lightweight frame. They provide a sleek and modern appearance. Fabric tension displays come in various shapes and sizes, including curved, straight, and wavy designs. So the fabric graphics are easy to swap out. So thus allow it to change out the fabric display graphic if your marketing strategy changes. You do not have to buy a whole kit again, just have a fabric banner made at a substantial savings and place it over the display frame.
The tension fabric displays all come with a travel bag. So that allows you to walk into an event venue and set up the backdrop display yourself in a few minutes. No expensive union labor is needed.
More types Of Exhibition Signs That Work
Vinyl banners are a big hit at the exhibitions and shows in Las VEgas. These vinyl banner signs are inexpensive and can be made very quickly. The custom banner signs can be made to any size and are full color. Meaning you can have as many colors on the trade show banners as you like. The banner printing process can include the printing pictures, images and logos on your trade show banner sign. The vinyl banners are usually printed on a vinyl banner material. But a fabric banner is also available. The fabric banners allow for an elegant look and are reusable. You can machine wash the trade show fabric banner after every use. So it will always look fresh and new after every show.
The trade how banners can be any size. So many times vendors and businesses will display large banners above their trade show booth. So as to get attention. It is hard to miss a large ten foot tall banner that is 50 feet wide in a convention venue.
If your trade show or Las Vegas convention is outdoors or you wish to attract attention as people enter. A sidewalk sign or outside banner stand might be worth an investment. A sidewalk sign can display information about your company and products with also a reference to where you are located in the event venue. Placing your booth number is a way to let people find you.
Directional Signage
The event venues will use double sided banner stands, "A" frame signs and foam board signs on easels to help direct people to the right location. Several of the event venues in Vegas are quite large and are well over one million square feet in space. So directional signs are definitely needed where there are multiple events taking place under one roof.
The foam board signage is cheap and can be made in a multitude of sizes. So the foam board is protected with a laminate to stop scuffs and scrapes and other minor damage. Foam core signs are full color and can include foam board printing of pictures and images.
The "A" frame signs are very portable and can be set up anywhere as they are self standing. Changing the sidewalk signs is easy and only takes a minute or so.
Double sided banner stands are also used for directional signage. They can also be different on each side. Displaying text in different languages at a international convention is a smart thing to do. As not everybody speaks the same language.
Conclusion
Trade show signs work. Using vibrant and bold colors will get the attention of attendees at your event. Making the signs easy to read and a simple font will make them understandable. So attendees get tired of interacting and you need to make your trade show banners and trade show signs visually stimulating.
Having you signs made in Las Vegas will save you money on expensive shipping. So contact a local sign company about getting your signs made in Vegas. So many times they offer delivery or easy pick up of your signs.