Tradeshow convention signs are needed badly during the busy trade shows and convention season in Las Vegas. These events draw companies from all over the world to these events. So they all vye for the attention of potential clients, partners, and investors. In such a competitive environment, trade show convention signage become invaluable tools for making a lasting impression.
Tradeshows and conventions serve as business opportunities where countless businesses showcase their products and services. With so many exhibitors competing for attention, it's easy for your brand to get lost in the sea of event booths. So this is where trade show signs come into play. They serve as beacons, guiding attendees to your booth and piquing their interest. A vibrant and colorful sign will ttract attendees from far away.
First Impressions Matter: Convention signs are often the first thing attendees see when approaching your booth. An eye-catching and well-designed sign can instantly capture their attention and create a favorable impression of your company brand and products.
Branding and Recognition: Consistency in branding is key to building a strong and recognizable brand identity. Tradeshow convention signs are an extension of your brand, displaying your logo, colors, and messaging. This consistency reinforces your brand's image and helps attendees remember you long after the event. So use the same colors if you can in your banner stand designs, banners and signage.
Information Dissemination: While tradeshows are about networking and face-to-face interactions, signs play a crucial role in conveying essential information about your products, services, and promotions. They provide a concise way to communicate your offerings to attendees. Even when you're busy engaging with visitors. Using QR codes is one way to keep people busy if you need to stall them for a few minutes.
Creating a Memorable Experience: Tradeshow convention signs are not limited to flat banners. Innovative and interactive signage can create memorable experiences for attendees. For example, digital screens, augmented reality displays, and interactive touchpoints can engage visitors and leave a lasting impression.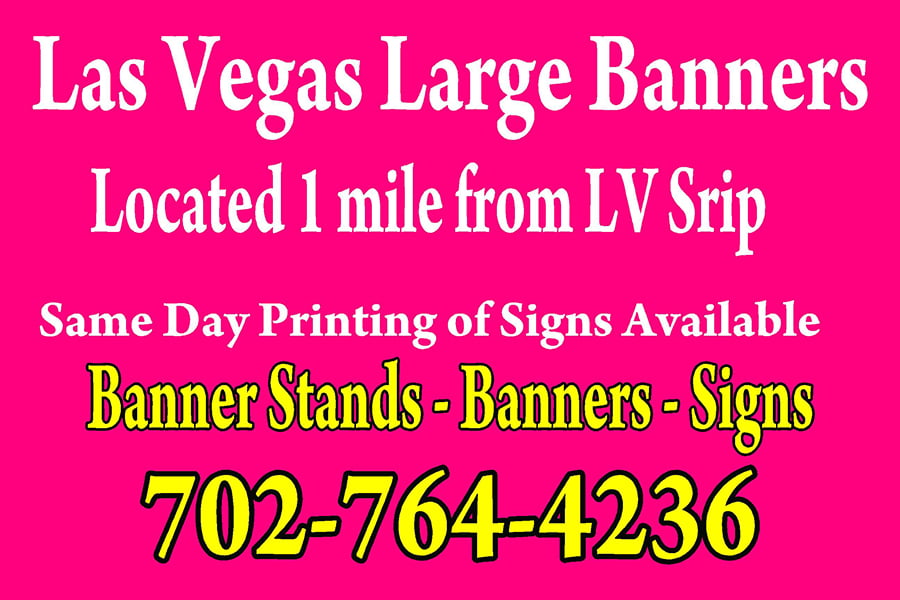 Types of Tradeshow Convention Signs
Banners and Backdrops: These are the staples of tradeshow signage. Large, colorful banners and backdrop banners can make your booth stand out from a distance. They can be customized with your brand's logo, images, and messages, allowing you to create a visually appealing and cohesive display. Many companies will use these backdrop display signs at the rear of their trade show booths. So as the attendees walk by, they can easily see what you are promoting.
Foam Board Sign Displays: These smaller signs are perfect for showcasing products or services on your booth's tabletop. They can include printed graphics and can be illuminated to draw attention to specific items. The foam board signs are full color signs.
Pop-Up Displays: Lightweight and easy to set up, pop-up displays are a convenient choice for tradeshows. They can include graphics, shelving, and even TV screens for video presentations. Tension fabric displays are also available at a good price. These tension fabric displays all come with the necessary equipment for easy set up.
Retractable Banner Stands: Retractable banner stands are one of the most popular sign graphics at the events. These retractable banner stand signs come with a telescopic pole that adjusts in height. All the roll up banners are full color signs. The roll up banners all come with a carrying bag for easy set up. The pull up banner stands can also be used at directional signage. So these retractable banner signs can help guide people to the right location.
Floor Graphics: Don't forget the floor! Floor graphics can be used to guide attendees to your booth or highlight specific areas of interest. They are an underutilized but effective way to grab attention.
How To Design A Successful Trade Show Sign
Creating compelling tradeshow convention signs requires thoughtful design. Keep it simple and avoid clutter. Your message should be clear and concise. Using visuals such as high-quality images and vibrant colors to deliver your message. Consistency is key, so use your brand's color and fonts to reinforce your brand identity continuously.
Highlight key information like your company name, logo, tagline, and contact details. Invest in durable and high-quality materials for your trade show signs. So as to ensure they look professional and stand the test of time. Think about where you are going to display signs. They should be easily visible from different angles and distances within the tradeshow floor. Double sided banner stands and double sided foam board signs are available to display. So these signs can be seen going and coming towards your booth.
Conclusion
Las Vegas tradeshows and conventions offer opportunities for networking, showcasing your products or services, and expanding your brand's reach. Millions of attendees from around the world attend these shows in Las Vegas. However, the competition is fierce, and attendees have limited time and attention. That's where trade show booth signs come into play as your brand's ambassadors.
These signs not only help you make a strong first impression but also reinforce your brand identity. So they also provide valuable information to attendees and create positive experiences. When designed thoughtfully and strategically. Tradeshow signs can be powerful tools in making your brand stand out amongst the competition at these shows. Using good quality signs will promote your business and event and make your event a success.