Tradeshow 10ft popup displays Vegas are great sign displays for the trade show booths and conventions. Vendors and companies like these 10ft straight sign displays and 10ft curved popup displays for the back of their display booths. So these trade show backdrop displays are easy to set up and look impressive. So set up time for two people is about 10 minutes. The fabric print is placed over the 10ft skeleton frame and tension on the frame keeps the fabric looking wrinkle free.
The pop up displays can be used many times at many different events. So best of all is you can just replace the fabric covering instead of buying a whole new sign display. You can save a lot of money by using the existing frame. Instead of replacing the whole pop up display sign.
There are many conventions and trade shows that happen in Las Vegas every year. At these events many signs and banners are needed for marketing purposes. Since these 10ft trade show backdrop displays are portable, no union labor is needed to set up the display. So this will save you lots and lots of money. A couple of trade show banner stands and a table cloth with the 10ft sign display is about all you need for a display booth.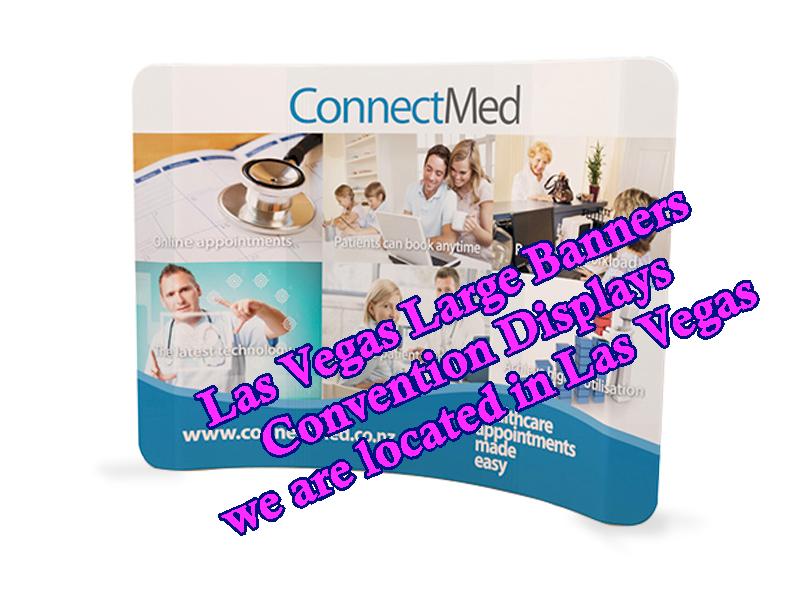 Tradeshow 10ft Popup Displays Vegas Come on Other Sizes
Las Vegas trade show booth 8ft displays are also very popular. So these 8ft fabric pop up displays come in straight and curved models. There is also a 20ft straight display that is also very impressive looking. The turnaround time on manufacturing these large backdrop displays is about 3 to 4 days. So you need to plan accordingly. The sign shops near the Las Vegas strip and convention venues service the trade shows and your best sign deals will come from one of these sign shops.