Trade show backdrop signage is in huge demand during the tradeshow and exhibition season in Vegas. The vendors and companies that are displaying at these events. Like the large trade show backdrop displays for the back of their display booths. So this way as the people walk by, they get to visually look at what you are promoting. So the companies will place pictures and images of their products and services on the large backdrop signs. This makes it easy for visitors to see what you are promoting and then they can decide to stop and chat. Many times people are interested in visiting every booth. But will not wait because the sales people are busy with other people. However by seeing product pictures will make them wait to talk to a sales representative.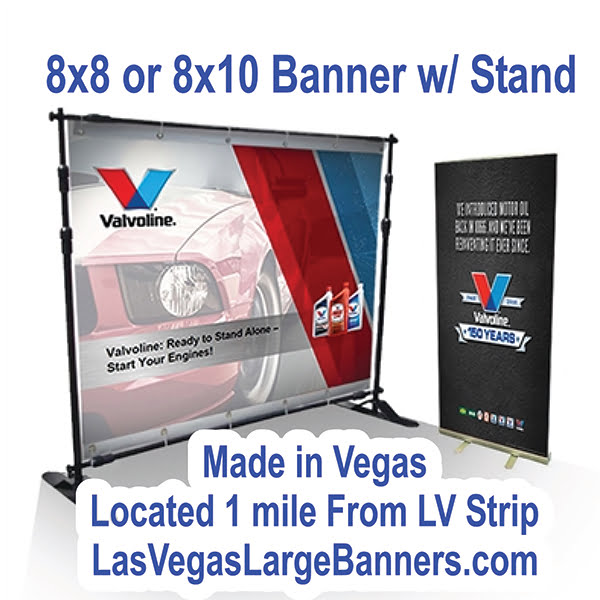 Trade Show Backdrop Signage Vegas Come In Many Types
Trade show backdrop signs come in many different types. The picture above shows a 8ft banner stand with a 8ft x 8ft banner. These adjustable banner stands can be expanded to 8ft tall x 10ft wide. However, you want to make the banner a little smaller than that. So this way you can stretch the banner with a little tension to keep it wrinkle free. However, you can also buy a fabric backdrop banner that is wrinkle free for slightly more money.
The 8ft curved backdrop tension display sign and the 10ft backdrop tension display sign are great if you just want to buy the whole sign kit. The backdrop display sign is easy to install. A frame is assembled and then a fabric full color banner is pulled over the frame with slight tension to make a perfect fit. Best of all, you can simply just replace the fabric banner instead of the whole kit at a substantial savings.