Trade show backdrop banner signs are needed for tradeshow display booths signs. The vendors and companies who are displaying at these events like the large backdrop banners at the back of their booths. So this way as people walk by, they can see what you are offering. So by placing pictures of your products or company name on these signs. People can determine if they are interested. So many times sales people are busy and cannot speak with everyone. But if the people browsing like what they see, they will wait to talk with you.
The backdrop banners are full color banners. So this means you can have the banner printed in as many colors as you like. Also pictures and logos can be printed on the banner as well. The backdrop signs can be installed with the help of union labor or your team members. As it only takes about 10 minutes to set up a backdrop banner or a trade show backdrop display sign.
Many different types of signs are also used at convention and trade show events. Las Vegas banners, trade show backdrop banners, foam board signs and many other types of signs. Signs are a great way to advertise your products and services at these events. The vendors and companies like to have their signs made in Vegas . So this way they can just come into town and have everything ready to set up. So often shipping companies lose or damage sign graphics.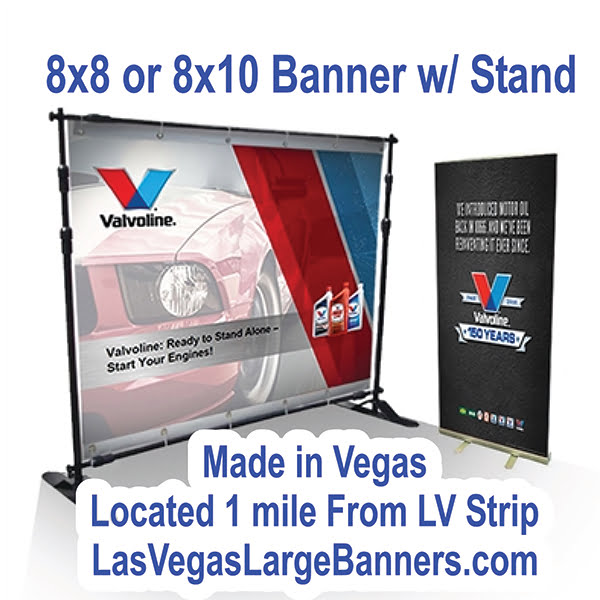 Trade Show Backdrop Banner Signs Come in Different Models
Backdrop display signs can be as simple as a 8×8 vinyl banner on an adjustable banner stand. So they can also be a 8ft wide display kit sign. These display kit signs have everything. A frame to hold the banner up, carrying case and a fabric banner graphic to pull over the frame. All the backdrop banner signs and backdrop display signs are easy to set up and take less than 10 minutes.