Trade show backdrop banner displays are popular at the trade shows and conventions. Each year thousands of vendors and companies participate in these events to showcase their new product lines. So this in turn brings millions of interested people from all over he world. Trade shows are essential events for companies looking to showcase their products and services. They also show off the new innovations to a targeted audience. In this competitive environment, the competition for business is fierce. One effective way to differentiate your company is through well designed trade show backdrop banner displays.
These large banners serve as the backdrop to your trade show booth. So these large banner displays are placed at the back of your trade show booth. Providing a visually stimulating and informative focal point for customers to peruse. When executed thoughtfully, backdrop banner displays can effectively communicate your brand message, create a memorable visual impact and give you the opportunity to speak with your potential customers.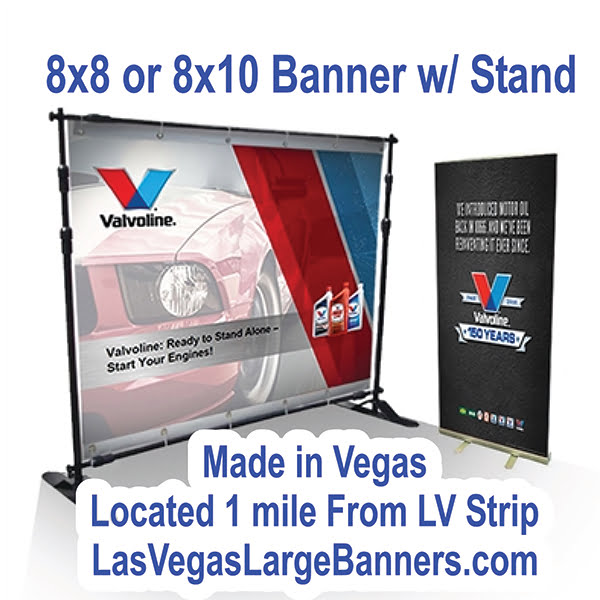 Trade Show Backdrop Banner Displays Set The Tone For Your Event.
The key to designing a good backdrop display sign is to focus on your marketing message. Stay true to your company colors for branding purposes. Utilizing quality pictures on the backdrop banner will make your products look clean and crisp. Simple bold text should be used to illustrate your product points. So a cluttered backdrop banner is hard to read and understand. So keeping it simple with help make everybody understand what you are promoting. Using QR codes will help people as well. They can snap a picture of it and learn more about your products and services.
Trade show backdrop sign displays are powerful tools for making a lasting impression on attendees. When strategically designed, these displays can capture attention, communicate your brand's message, and drive interested parties to your company. Your trade show backdrop sign is like a painting. Let your trade show sign tell a story as the potential customers look at it.