Trade show backdrop 8ft banners are perfect for trade show booth display signs. These large backdrop banners fit great at the back of display booths. So as the people walk by your booth, they can see what you have printed on your backdrop banner. So many times people at a convention will be walking by and if the sales people are busy, they will keep walking. As there is lots of vendor booths and company booths to see. But if you print your pictures of products on these convention backdrop displays, the people will wait to speak to someone. So smart vendors and companies make it easy visually to identify who and what they are all about.
Las Vegas is the king of trade shows and conventions. As more events and shows take place in Vegas than anywhere else in the United States. Las Vegas has three very large convention venues to hold the biggest of the conventions. The Las Vegas Convention Center ( LVCC ) has over three million square feet of floor space. The Venetian Convention Center has well over one million square feet. The Mandalay Bay Convention Center has also over one million square feet of show space. Many Vegas convention signs and Vegas trade show signs are needed for these events. The 8ft x 8ft banners and the 8ft x 10ft banners are very popular at these events. The vendors and companies can walk right into their display booths and set up the signs by themselves. Thus saving money from having to hire expensive union labor.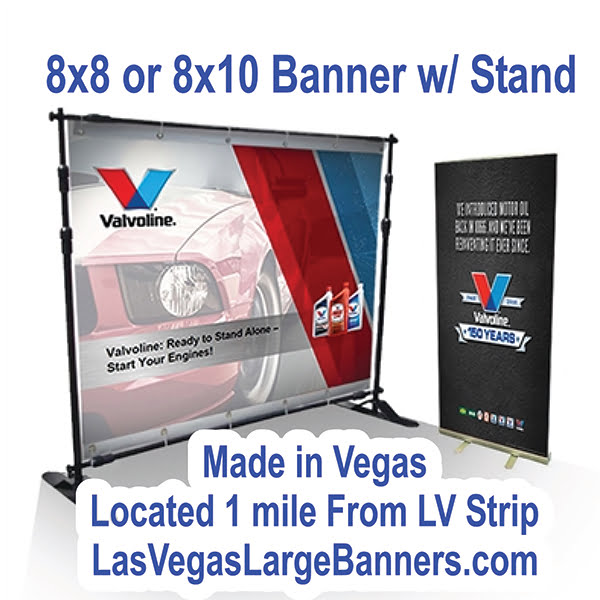 Trade Show Backdrop 8ft Banners can Be Made Fast
Many vendors and companies prefer to have their backdrop banners made in Las Vegas. So this saves a lot of money on shipping charges. it also guarantees that the signs and banners will be available when they get to Vegas. As sometimes the shipping companies do not deliver on time. Or the backdrop banners show up damaged.