Stand up banner stands are used at the Las Vegas convention venues. Also at the trade shows and event venues. Retractable banner stands are very popular because they are inexpensive. Also, the banner stands are very easy to set up. With the most common banner stand being the 33×78 stand. That is almost 17 square feet of printable graphic to display.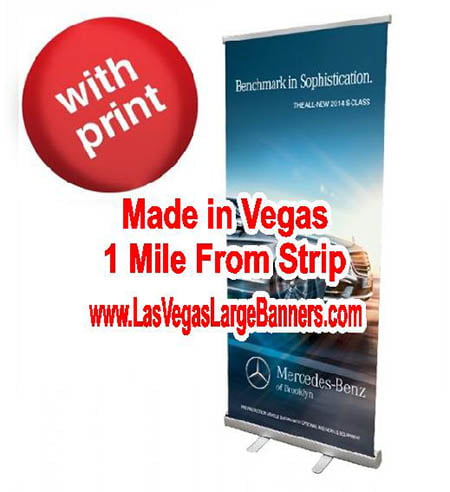 Are Stand Up Banner Stands Expensive ?
Las Vegas sign shops print banner stands very inexpensively. Because most sign store have state of the art printers capable of printing signs at fast speeds. These modern printers can print several hundred square feet of material an hour. Also, with the highest quality. The most common retractable banner stand, the 33″ x 78″ stand sells for around $125.00. This includes stand, print and carrying case. The deluxe version of the same stand sells for around $165.00. The main difference being its a 33″ x 80″ deluxe banner stand with a chrome base. This deluxe banner stand offers more than 18 square feet of printable graphic space.
Banner stands have a standard turnaround time of a few days. However, same day banner stand printing or next day banner stand printing can be done. Many times people come to Las Vegas to display at the convention venues. But find out their graphics didn't show up or are damaged. So the signs have to be replaced in a hurry. If the sign shop has capacity, there is no extra charge. But if there is a convention in town, there might be a extra charge due to the overtime needed.
Contact your local sign store for more information about these banner stand signs. The sign stores that offer the best prices are generally located near the convention venues. They will be glad to answer all you questions and assist you.