Retractable pullup banner stands are one of the most widely used signs at the convention venues. Vendors and companies displaying at the events love their low cost. Also these retractable banner stands are very easy to set up. So in two minutes or less you can set up the banner stand. The banner stand sign is self standing so it can be placed anywhere.
There are hundreds of conventions held annually in Las Vegas. These conventions attract millions of people to Vegas annually. The biggest and best conventions and trade shows are held in Vegas. Vegas is the King of conventions. So everybody wants to have there events here. Las Vegas boasts fine dining and world class intermittent. Also there is so many other activities to enjoy.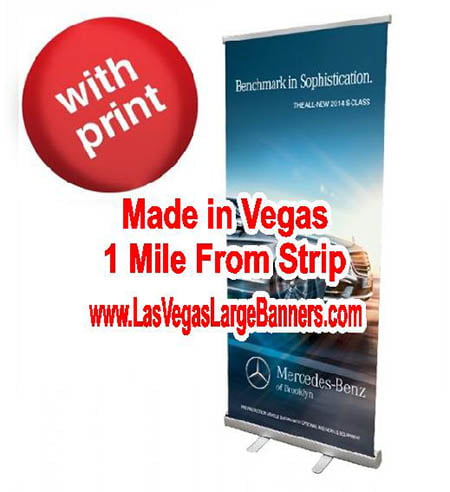 Retractable Pullup Banner Stands Are Inexpensive.
The economy stand up banner stand is the 33″ x 78″ banner stand. This economy model comes with a telescopic pole for height adjustment. This allows you to have a graphic that is not so tall. The telescopic pole allows for height adjustment of the graphic. This economy pull up banner stand costs around $125.00. Emergency printing can get the banner stand the same day. Otherwise, it is usually a day or two turnaround.
The deluxe version of the pull up banner display is the 33″ x 80″ model. This model comes with a wide base that is very impressive looking. Also, the price on this deluxe retractable banner stand is around $165.00. The stand is well built and can be used repeatedly at different events. Also, these retractable banner stands come in a variety of sizes. For those on a budget, the X stand banner can be purchased for under $80 and offers easy change out of the graphic. Contact your local Vegas sign store for more information on these banner stands and other types of signage.