Retractable banner stand displays Vegas are being used at the trade show venues. The vendors presenting merchandise and services at these events like these types of trade show signs. The retractable banner stands are self standing signs or stand alone signs. So they allow the banner stand to be placed anywhere because they can stand all by themselves. So this portability makes it a very popular type of convention sign.
The pull up banner stands come in many different sizes to meet your marketing agenda. The banner stand signs range from around 2ft wide to around 5 ft. wide. So the heights of the banner stands vary up to 92″ tall. All the Vegas retractable banners come with hardware, carrying case and full color graphic. Meaning you can have multiple colors printed on the banner graphic. Along with pictures, logos and images.
The most popular Las Vegas banner stand is the 33×78 model. This banner stand has almost 17 square feet of printable space. So it has plenty of room for text and pictures. The roll up banner stands extend upwards and when retracted are very compact. There are many other types of Vegas banner stand sizes also available.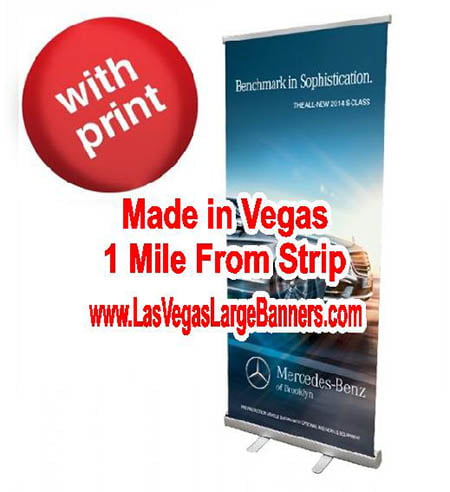 Retractable Banner Stand Displays Vegas Can Be Made Same
Your local banner stand sign company can make same day banner stands. These banner stands are made with the help of state of the art sign printers. These sign printing machines have never been faster and printing in higher quality than ever before. The speed of the printers allows for same day signs and rush banners in many cases. So these sign stores capable of same day printing are usually located near the convention venues. As they tend to have the more modern sign making equipment. Contact your local Las Vegas sign company for more information.