Low cost backdrop banners Vegas will get you those tradeshow backdrop banner signs for your event. The companies that are displaying at the tradeshows and conventions like these large backdrop banners. So they are placing the backdrop signs at the back of their display booths. So this way when people walk by and look at their display, they see what the company is advertising. Many of the companies are printing pictures of their product lines to make it easy on people to figure out that they are selling. They are doing these backdrop signs with fantastic results. The purpose of the shows is to make contact with potential customers and these tradeshow backdrop banners work.
The backdrop signs come separately or in kits. The 8ft backdrop display sign comes with hardware and fabric banner print. You simply assemble the hardware frame and place the fabric banner graphic over the frame. The fabric banner is wrinkle free and professional looking. These tradeshow backdrop display signs also come in the handy 10ft size. Alternately, you can print large banners and use an adjustable banner stnad to display them. These banner stands usually come in the 8ft x 8ft size or the 8ft x 10ft size. The banner stands adjust to stretch the banner to make it wrinkle free. So if you have a 8ft x 10ft banner stand, try making the banner graphic 7.5ft tall x 9.5 ft wide. So this will allow you to place tension on the banner to make it tight.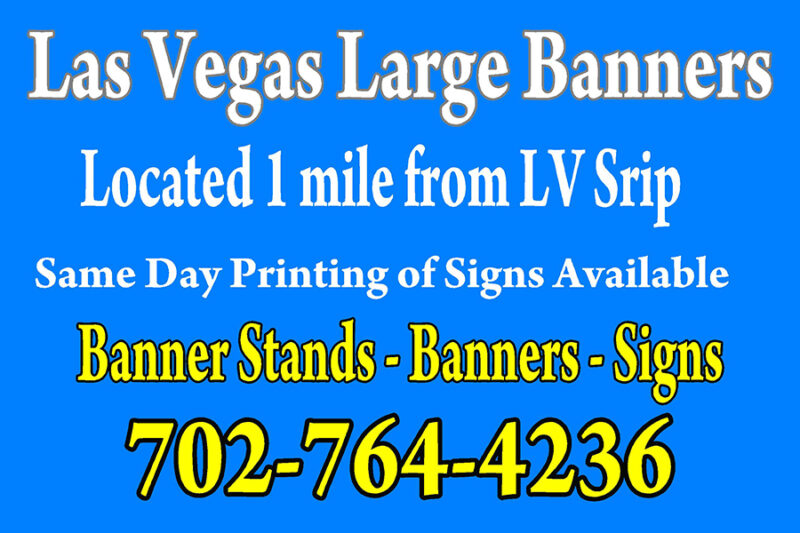 Low Cost Backdrop Banners Vegas Are Inexpensive
The backdrop banners cost around $3.00 a square foot and a banner stand 8ft x 10ft costs around $100.00. A fabric banner can be found for about $4.00 a square foot. There are many banner sign shops in Las Vegas that can help you in getting your tradeshow and convention signs. These sign shops usually are locate d near the convention venues.