Las Vegas tradeshow fabric banners are gaining in popularity versus the old vinyl banners. So vendors and companies prefer the wrinkle free appearance of the fabric banners. The Vegas tradeshow booth fabric displays are easy to set up and take down. They fabric display signs also can be packed away and walked out of the convention venue. All the fabric tradeshow booth signs come with a carrying case that makes transportation easy.
The fabric banners can be purchased separately and then displayed with an adjustable banner stand. The large adjustable banner stands expand to 8ft tall by 10ft wide. So since they expand and adjust, you can also get a 8ft tall x 8ft wide fabric display and use the same banner stand. The banner stand adjusts to as low as about 4ft tall by about 5 feet wide. So it really is a convention adjustable banner stand for many different size banners.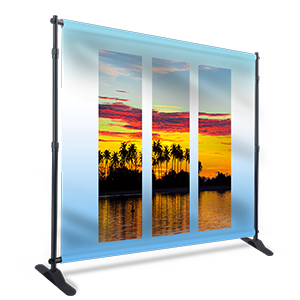 Las Vegas Tradeshow Fabric Banners Are Full Color Banners
Vegas tradeshow booth fabric banner displays are full color displays. So that means you can have as many colors on your fabric banner as you like. You can also have pictures and images printed on the fabric banner displays. The fabric banners can be purchased separate or in kits. A Las Vegas trade show booth 8ft curved display sells for under $600 nd comes as a complete kit. There is a frame to assemble and then the fabric banner is placed over a frame. So then it is zipped shut and the tension on the fabric banner makes it wrinkle free.
The convention booth display signs can be set up and taken down in just minutes. Best of all the fabric banners in the kits can be purchased at a low price. So this allows you to use the existing frame rather than have to buy a whole new display sign kit. Your local Las Vegas sign company will have more information on these signs.