Pull up banner stands are very popular signage. These retractable banner stands are used a lot at conventions and trade shows. The banner stands are easy to set up. The banner stand signs are able to be placed anywhere. Also, they are self standing and require no support.
Millions of people come to Las Vegas every year for the conventions. Thousands of companies come to show off their products and services.Also, these events bring millions of dollars of revenue to Southern Nevada. Many signs and banners are needed. So Las Vegas sign shops keep very busy printing signs, banners and banner stands. The retractable pull up pop up displays are one of the most popular signs. Also, foam board signs, foam core signs and banners are very popular.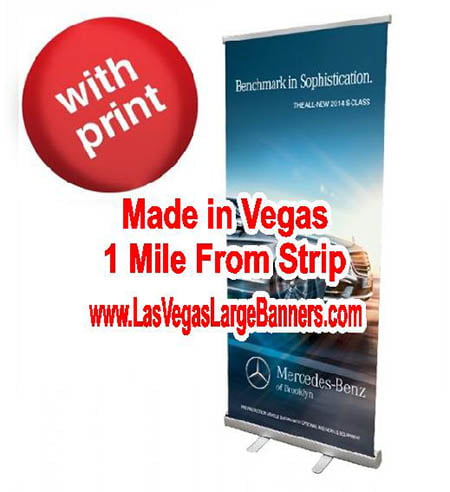 Pull Up Banner Stands Come in Many Sizes
The most popular sized pop up display is the 33 x 78″ tall stand. These signs cost around $125.00. The premium version of the stand, the 33′ x 80″ stand comes with a wide chrome base. This is a very impressive looking stand. So if you choose the premium stand, it costs about $40.00 more than the economy version. The stands come in sizes ranging from 2 feet wide to around 4-5ft wide. The roll up banner stands also come in various heights.
All the banner stands come printed on a 13 ounce vinyl banner. Also on a anti curl banner substrate. So either substrate provides for a bright and vivid design graphic.
Choosing the right sign shop is easy for your printing needs. Yelp 5 star Las Vegas rated sign stores can help you along with Facebook. The social media companies can tell you a lot about businesses. Also, you can learn about pricing and what products are offered by these Las Vegas sign companies.