Las Vegas 6ft trade show curved display make fr great signage for the top of tables. These large fabric displays are a perfect fit for 6ft or 8ft tables. Vendors and companies will place the Vegas 6ft trade show display on top of these tables. So then the display lures the people into the booth for additional information.
You can see at the various trade shows and conventions held in Las Vegas how popular they are. So you cannot walk thru one of these events without seeing these popular pop up display signs.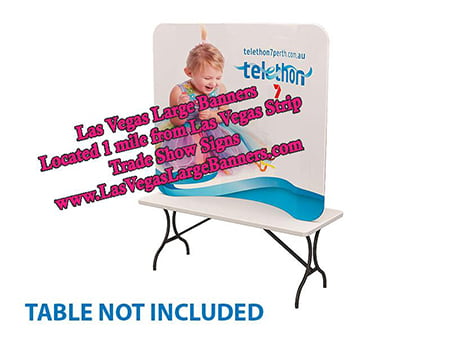 Do 6ft Trade Show Curved Display come in Other Sizes ?
Las Vegas trade show displays come in a multitude of sizes. The most popular sizes are the 6ft, 8ft and 10ft sizes. There is also a 20 ft trade show display version. The 8ft fabric display sign comes in a straight or curved design. The 10ft fabric display sign comes also in a straight or curved design.
The fabric material is printed on a polyester material that allows for a wrinkle free appearance. Usually there is a frame and then the fabric material is fitted over the frame. So this allows for a tight fabric that gives off a very professional appearance. All the pop up displays come with a travel bag that allows for easy transportation. The set up time is less than ten minutes for the bigger trade show display signs. The table top 6ft display sign only takes about 5 minutes to set up.
The convention display signs fabric is machine washable. So this allows for you to have the fabric washed after every event. So the display will have a fresh and new look each time being used. Contact a Las Vegas sign shop for additional information and turnaround times for these popular display signs.