Large backdrop banner displays are being used frequently at the trade shows and conventions in Sin City. The businesses displaying at these events like these large backdrop banners. So they are placing these signs at the back of their event booths. So as the attendees are walking around, they get to easily see what your company is all about. Many companies are printing pictures of their products and services on these vinyl banner or fabric banners. So the ability to visually see the products makes it more meaningful for the attendees. So also your sales team can use the backdrop displays as a reference during the sales speech.
As an event organizer with years of experience under my belt, I've witnessed the transformation of large backdrop banner displays from mere decorations to powerful marketing tools. These massive signs not only create a captivating visual impact. But also serve as an effective means of communication. They are a very cost effective solution for display signs. Best of all they can be reused many times at different events.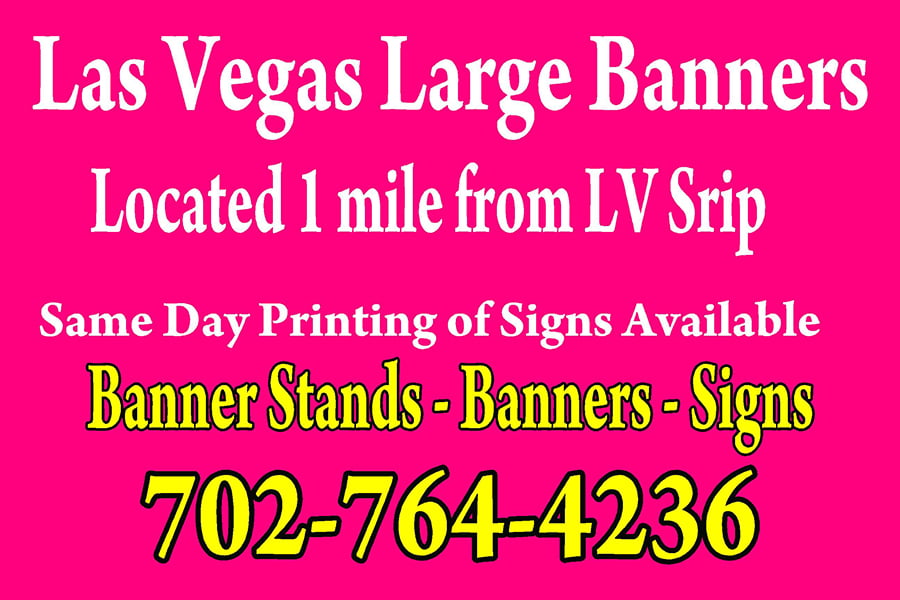 Why Large Backdrop Banner Displays ?
First impressions matter at the trade shows. So especially in the world of events and marketing. The moment attendees walk through the doors, they are walking into an array of signs and banners. A stunning large backdrop banner display helps you stand out from the crowd. The old saying that Bigger is Better applies. The immediate impact is undeniable, as it sets the tone for the entire event. From trade shows and conventions to business conferences. So these sign displays have proven their worth time and time again.
One of the most significant advantages of large backdrop banner displays is their ability to convey a story or message effectively. Instead of relying solely on words or multimedia presentations, these banners combine visual elements and concise messaging. So as to capture the essence of an event or brand. They serve as a visual narrative, offering attendees a glimpse into what to expect from your business. They also make for great reference during sales presentations. The large banners can have a QR code printed on them for interaction with the customer. Once the attendee scans the code, it will in their phones for future use.
For branding, large banners are invaluable assets for creating brand visibility and recognition. The size and prominence of these displays make them hard to miss. So thus ensuring that your logo and key messages are etched into attendees' minds. It's a dynamic way to promote brand awareness and engage potential customers on a grand scale.
Are Large Banner Displays Easy To Use ?
One of the remarkable aspects of backdrop displays is their versatility. They can be customized to suit various needs and scenarios. Whether it's a step and repeat banner for a glamorous event or a sign for a trade show booth. The possibilities are virtually endless. This adaptability makes them a valuable tool for event organizers, marketers, and businesses.
Despite their impressive size, large backdrop banner displays are surprisingly easy to set up and transport. The advancements in banner technology have led to lightweight materials and user friendly assembly. So this means that even a small team can quickly and efficiently install these display signs. Saving time and effort during event setup. So no expensive union labor is needed to set up these signs.
Compared to other advertising and marketing mediums. Trade show backdrop displays offer a cost effective solution. Their longevity, reusability, and versatility make them an attractive investment. With proper care and maintenance, a single display can be used for multiple events, providing substantial savings over a period of time. The banners themselves can be replaced to current marketing strategies at a fraction of original cost.
Engaging attendees is a top priority for event organizers. These displays can be interactive, inviting attendees to take photos or engage in activities related to the event or brand. In an age where social media sharing is ubiquitous, these displays can help generate buzz and amplify the event's reach. QR codes printed on the backdrop displays also works very well.
Trade Show Backdrop Signs Can Be Used For Photo Opportunities
In today's social media driven world, the value of a memorable photo opportunity cannot be overstated. Large banner signs serve as the perfect backdrop for attendees' selfies and group photos. These images often find their way onto various social media platforms. So thus allowing your event or brand to reach a broader audience. The banner signs can be made with vinyl banner materials or be fabric banners. Fabric banner backdrop displays are what they use at the Hollywood events and upper class events. As they add elegance to the event.
With increasing concern about environmental sustainability, it's essential to consider the eco-friendliness of marketing materials. Large banner displays can be made from recyclable materials and are designed for durability. By choosing sustainable options, event organizers and brands can demonstrate their commitment to environmental responsibility. The inks used for banner printing are environmentally friendly.
Conclusion
Large backdrop banner displays have evolved from mere decorations to indispensable tools for event organizers and marketers. These signs are very popular at the Las Vegas trade shows and conventions. Thousands of businesses and vendors come annually to Las Vegas to display their product lines. So standing out amongst the competition is imperative. Their ability to create a powerful first impression and convey a captivating narrative is important. With versatility in design and placement and ease of installation and transport. These trade show signs are cost effective. These displays offer a myriad of benefits for the trade show vendors and displaying companies.
Moreover, backdrop banner displays enhance attendee engagement. Creating memorable photo opportunities, and can be designed with sustainability in mind.
Las Vegas sign shops can assist you in obtaining your trade show signs and convention banners. Las Vegas is the number one ranked destination for trade shows and conventions. So many sign shops service the event venues. So this competition creates aggressive price competition for your business.