Foamcore board sign printing can get you those foam board signs. So these foam board signs are very popular at events and shows in Las Vegas. They are considered temporary signage. So the foamcore board signs are very professional looking and inexpensive. Because they are fragile, the foam board signs are temporary signage and usually just thrown away after an event. They are considered one use type signs.
Foam core signs are also very popular at business presentations. Business people like to place foam board signs on easels and refer to them during presentations. The foam board signs can be full color. So that means images and pictures of all colors can be printed on them. Printing vibrant and bright colors on your foam poster signs help attract attention to your marketing message.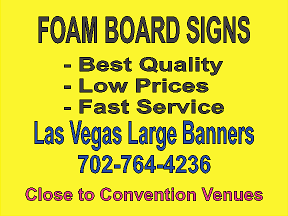 Foamcore Board Sign Printing Can Be Made in Many Different Sizes.
Custom sized foam board printing is no problem. The foamboard typically comes in sheets of 4ft x 8ft. If a larger print is necessary, the sign shop will print different sections of foam board. So then the foam board sign can be placed next to each other ( like a jigsaw puzzle ) to simulate one large foamboard sign. The foam boards are usually printed on a 3/16ths foam board or a 1/2″ thick foam board substrate. The prints are full color and then laminated for a professional look. The laminate comes in matte lamination to reflect lighting. Or the lamination can come in gloss lamination to bring out the shine.
Some of the more popular foam board sizes are the 18×24 foam board signs and the 24×36 foam board sign. Foam board signs are also known as foam board poster signs.
Conclusion
Your local Las Vegas foam board sign store will have more information on these great signs. Give them a call today and let them help you be your best at conventions and exhibitions. Delivery and fast pick up are options at many Vegas foam board sign shops.