Foam board signage Las Vegas is badly needed at the may trade shows and events held in Sin City. The companies and businesses displaying at the Las Vegas Convention Center. And other convention venues need effective and affordable signs. After all, these signs and banners are used for just a few days and then thrown away. Enter foam board signage. A versatile and affordable solution that has become a staple in the realm of advertising, events, and presentations. In this blog post, we will explore the world of foam board signs. Uncovering its benefits, applications, and where to find the best services for creating captivating foam board signs.
Foam Board Signs Have Many Uses
Foamboard signage, also known as foamcore or foamex. Offers a range of benefits that make it a popular choice for businesses, event organizers, conventioneers.
Affordability: In a city where marketing budgets can quickly spiral out of control, foam core board signage provides an affordable alternative that doesn't compromise on quality. Its cost-effectiveness allows businesses of all sizes to create impactful signage without breaking the bank.
Versatility: Whether you're promoting a new product, showcasing your brand, or providing directions at an event, foam board signage can be customized to suit various purposes. It serves as a blank canvas for creativity, allowing you to design attention-grabbing displays.
Foam Core Signs are Customizable: Foam board signage can be easily cut, shaped, and printed to match your specific design requirements. From intricate details to large-format displays, foam board accommodates a wide range of design possibilities.
Foam Board Signs are Lightweight and Portable: Las Vegas is a city of events and exhibitions, and foam board signage's lightweight nature makes it a breeze to transport and set up. Whether you're preparing for a trade show, conference, or pop-up event, foam core signage offers convenience without compromising on impact.
Fast Turnaround with Same Day Foam Boards Being Available: In the fast-paced environment of Las Vegas, time is of the essence. Foam board signage can be produced quickly, making it an ideal choice for last-minute promotional needs.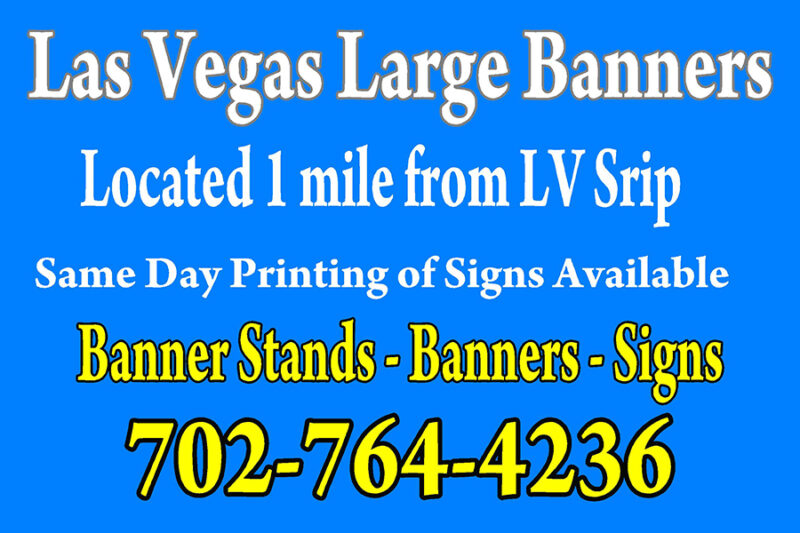 Where Are Foam Board Signs Used ?
Foam board signage's versatility lends itself to a multitude of applications across various industries:
Retail and Advertising: From storefront displays to in-store promotions, foam board signage helps retailers capture the attention of potential customers and convey their brand message effectively.
Events and Conferences: Las Vegas is synonymous with events and entertainment. So foam board signage plays a crucial role in guiding attendees, promoting sponsors, and enhancing the overall experience at trade shows, conferences, and exhibitions.
Real Estate: In a city where real estate is a booming industry, foam board signage serves as a powerful tool for showcasing properties, providing information, and attracting potential buyers.
Restaurants and Hospitality: Whether it's a menu board, directional signage, or a creative wall display. So foam board signage adds a touch of visual appeal to restaurants, hotels, and hospitality establishments.
Educational Institutions: Foam board signage finds its place in schools, colleges, and universities, helping communicate important information, celebrate achievements, and create engaging displays.
Foam Core Signs Are Available at Local Las Vegas Sign Stores
Las Vegas boasts a thriving market for printing and signage services, and locating the right provider for your foam board signage needs is crucial.
Local Sign Print Stores: Many local print shops offer foam core board signage services. Use Google search engine and contact print shops in your area. So as to discuss your requirements and get cost estimates.
Online Printing Services: Numerous online sign printing companies provide customizable foam board signage options. While they may not be based in Las Vegas, they often offer shipping services to the city. Be advised that foam poster signs are fragile and require proper packing to be shipped.
Signage Companies: Companies specializing in Vegas signage and convention displays are well-equipped to handle foam board projects. They can provide design assistance, printing, and even installation if needed.
Trade Shows and Exhibitions: When attending events in Las Vegas, explore the exhibition floor. You're likely to find sign companies showcasing their products and services. So providing an opportunity to connect directly.
In a city known for its grandeur and larger-than-life displays. Foam board signage in Las Vegas emerges as a versatile, affordable, and effective solution for capturing attention. Also conveying messages, and creating positive visual stimulation. Its wide range of applications, coupled with the ease of customization, makes foam board signage an invaluable tool for businesses, event organizers, and individuals looking to leave a lasting impression in the vibrant city that never sleeps. As you embark on your Las Vegas foam board sign experience. Remember to explore local print shops, online services, and local sign companies to find the perfect partner for bringing your creative visions to life.