Fabric pop up display signs are increasing in popularity at the trade shows and exhibitions in Las Vegas. Las Vegas is a major destination for events in the United States. Everybody wants to hold their shows in Nevada as there is so much to do. The amenities offered before and after the show are amazing. Las Vegas is a 24 hour party town and people come by the millions every year to visit.
Las Vegas attracts hundreds of top businesses from all over the world to these events. So at these events, the businesses display the newest products and services available. The new technology is put on display to interested parties. So these interested parties come by the millions to see the latest innovations in their fields.
Many Las Vegas signs and Las Vegas banners are needed for these events. The pop up tension display signs being very important. These versatile and eye catching marketing signs have gained immense popularity in recent years. The fabric tension display signs come in complete kits.So all you have to do is set them up. Setting up the tension fabric display signs is easy. No expensive union labor is needed to put up the signs.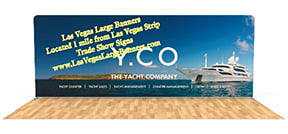 What Are Fabric Pop-Up Display Signs
Fabric popup signs are portable marketing solutions that combine style and functionality. They are designed to make a positive impression on tradeshow attendees and interested parties. These signs consist of a lightweight frame that can be easily assembled and covered with a high-quality fabric graphic. They are visually appealing and attention grabbing display sign. So that allows them to be customized to suit your company's marketing message.
The fabric pop up signs can be full color. So that means you can print as many colors or combination of colors on the fabric banner as you like. So this also allows for printing of images and pictures on the trade show backdrop sign. The fabric banner display allows for a wrinkle free appearance. Best of all, the fabric covering can be washed after use. So that allows for a fresh and new look at every event.
Advantages Of Trade Show Display Signs
Fabric pop-up display signs are portable and can be set up in just a few minutes. Their lightweight frames are easy to transport and can fit into a carrying case. So thus making them ideal for trade shows and conventions. You can simply walk into a convention venue with the pop up display and set it up yourself.
The fabric graphics used in these trade show display signs are durable and can last a long time. They are designed to withstand normal wear and tear. So thus ensuring that your investment lasts for multiple events and shows in good condition.
The fabric used in these displays allows for high-resolution, vibrant graphics that will make your message pop. Whether you're showcasing products or promoting your brand, the quality of the graphics will leave a lasting impression. Using vibrant and bold colors attract the attention of attendees. So these tension fabric backdrop signs can be printed in these types of colors.
Fabric pop-up display signs come in various sizes and shapes, allowing for versatility in your marketing efforts. So whether you need a backdrop for a booth or a stand-alone display. These signs can be customized to meet your specific needs. The trade show backdrop signs can be straight, curved or "S" shaped depending upon your needs.
How To Make Your Fabric Popup Signs Stand Out
One of the key advantages of popup display signs is the ability to customize the artwork. You can work with a graphic designer to create vibrant visuals to gather the attention of attendees at your event. So that will allow you to align with your brand identity and message. High-quality graphics are essential for capturing the attention of your target audience. Top quality pictures must be used to promote your products.
Fabric backdrop display signs come in various sizes and shapes. Depending on your marketing goals and the available space at your event. So you can choose a size and shape that suits your needs. Common options include straight displays, curved displays, and tabletop displays.
Lighting can be used to further enhance the visual impact of your fabric display sign. So consider adding lighting elements. LED lights can be strategically placed to highlight specific products or services on your display.
Maximizing The Trade Show Backdrop Signs
Before designing your fabric pop-up display sign, it's essential to understand your target audience. You need to know who is attending your event or show. So know what they are looking for and what products they want. Gearing your signage towards knowing your audience will create more business.
Keeping your messaging clear and concise will make it easier for people to understand your trade show signage. Attending an event is a tiring effort. So make it easy for people to understand what you are marketing.
Invest in high-resolution images and graphics. Quality images on your fabric pop-up display sign can significantly impact its effectiveness. So show your products and services in quality imaging. A pixelated or blurry image of your products is not conducive to quality marketing. You are selling a product so show it in the best light.
Using QR codes on your trade show signs will allow people to interact with your Vegas signage. So it will also allow them to keep your company information stored in their phones and retrieved at a later date.
Conclusion
Las Vegas has many sign stores willing and able to get your convention signs and convention banners. These sign shops are usually located near the convention venues and have modern sign making equipment. The newer sign equipment can do trade show printing faster than ever before with higher quality. The faster trade show printing allows for lower production costs. So these lower sign production costs are then passed on to the customer. Las Vegas sign companies offer delivery or fast pick up of signs to the convention venues or hotels.