Trade show sign printing is needed for all the trade shows taking place in Las Vegas. While Las Vegas is known as a gambling and entertainment mecca. Most people do not realize That Vegas is a top tier destination for events and shows. There are so many tradeshows and conventions being held in Sin City. These events attract thousands of businesses from all parts of the world. So in return millions of people participate by attending these trade shows. These attendees come for their own reasons or just to get a leg up on the competition. These attendees represent companies from all around the world and want to see the latest innovations and products available. So they can be the first in their area to market them. The trade shows and conventions in Las Vegas generate a lot of business and are instrumental to the Southern Nevada economy.
With three decades of experience in the world of sign and banner printing. I am here to share some invaluable insights on how to stand out at the event venues. Tradeshow sign printing in Las Vegas works ! Vegas is known for its extravagance and competition. Demanding perfection when it comes to showcasing your business. So what does it take to get your trade show signs and trade show banners noticed at events ?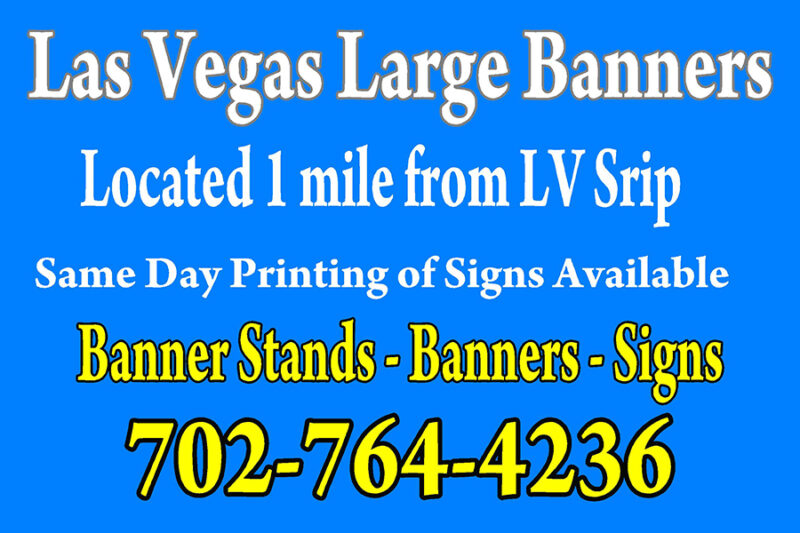 How To Stand Out With Your Trade Show Sign Printing
In Las Vegas, everything is grand and glitzy. So your trade show sign needs to catch the eye from a distance. Bold and vibrant colors, easy to read fonts and simple text to communicate are ideal. Using quality pictures and images help promote your company and products in the best light. You need to present your convention signs and convention vinyl banners in the best possible light. So as to stand out from the competition at your event.
When it comes to trade show signage, think large. Large format printing ensures that you can get a convention sign or convention banner in any size you like. Las Vegas banners as big as 10ft tall x 100ft wide have been used at the event venues to garnish attention. Big businesses with deep pockets will hang these large banners from the venue's rafters to get attention. Using large banner stands of different widths and heights also get attention. As retractable banner stands are a major type of sign used at event venues.
Trade Show Banners and Signs Need The Right Material.
Choosing the right sign material is imperative to have a good sign. If you are displaying a backdrop display banner, you have the option of using fabric banner material or vinyl banner material. The vinyl banner material is much more durable than fabric material. But it does not look as nice. Also, the fabric banners are easy to set up and haul away since they can be folded. While a Vegas vinyl banner has to be rolled up tightly and hauled away. The vinyl banner sign is less expensive.
Do not skimp on the quality of your sign printing. Vegas demands bold and vibrant colors. Invest in top quality sign printing and banner printing to make your sign stand out at your event. Using factory inks brings to life a sign. While the aftermarket and low quality sign printers use watered down inks that lack vibrancy.
Where To Place Trade Show Signs
Placing your convention signs and convention banners in the right spot helps being seen. Using a double sided banner stand allows you to display more products to be seen. So in other cases, a double sided banner stand can be used to exhibit marketing messages in two different languages. One side in English and the other side in another language. So for example, if you have a large contingent of Asian people, you could print one side of your retractable banner stand isa asian language. Choose high-traffic areas near entrances, walkways, or your booth to ensure maximum visibility. Don't let your sign get lost in the crowd.
The retractable banner stands are easily moveable and self standing. So you can place these types of signs in many different locations in your trade show booth. Using two sided foam board signs also allows you to hang a foam board sign from above. So this allows attendees to see your foam board signage from either side they approach. The double sided foam boards are also able to be printed in different languages and have different pictures on both sides.
Trade Show backdrop banners are usually placed on an adjustable banner stand towards the rear of the trade show stall. So this way, attendees walking by can see what you are promoting. These large backdrop displays are easy to set up and can be installed in just a few minutes. So no expensive union labor needs to be hired to set the trade show sign up. Tension fabric backdrop displays also work well. These fabric backdrop displays come in whole kits ready to assemble. Your local Vegas sign store will have more details on the sizes and shapes of the signs.
Conclusion
In conclusion, succeeding in the world of trade show sign printing in Las Vegas is all about combining creativity, quality materials and strategic display of your signage. From sign design to sign materials, every aspect counts. Las Vegas has sign companies that service the trade shows and conventions. These sign companies are near the event venues like Las Vegas Convention Center and Mandalay Bay Convention Center. The sign shops have modern sign printing equipment that can do banner printing and sign printing fast and cheap. The speed of the new printers is amazing. So with increased printing speed, the cost of making signs and banners has fallen. So this cost savings is passed on to the customer in the form of lower prices.
Many businesses just prefer to have their Las Vegas signs and Vegas banners made locally. Rather than have them shipped to Southern Nevada at high shipping expenses.