Double sided foam board signs are used at the many exhibitions and trade shows held in Las Vegas Nevada. The vendors and companies who are displaying their product lines at these shows love these light weight signs. They are great Vegas signs for displaying company information or product information. These double sided foam core signs are great for getting attention of attendees from both sides. It is hard not to take notice of a double sided sign if you are approaching from either side. Double sided foamboard signs are great for advertising solutions that offer a blend of functionality, affordability, and visual stimuli.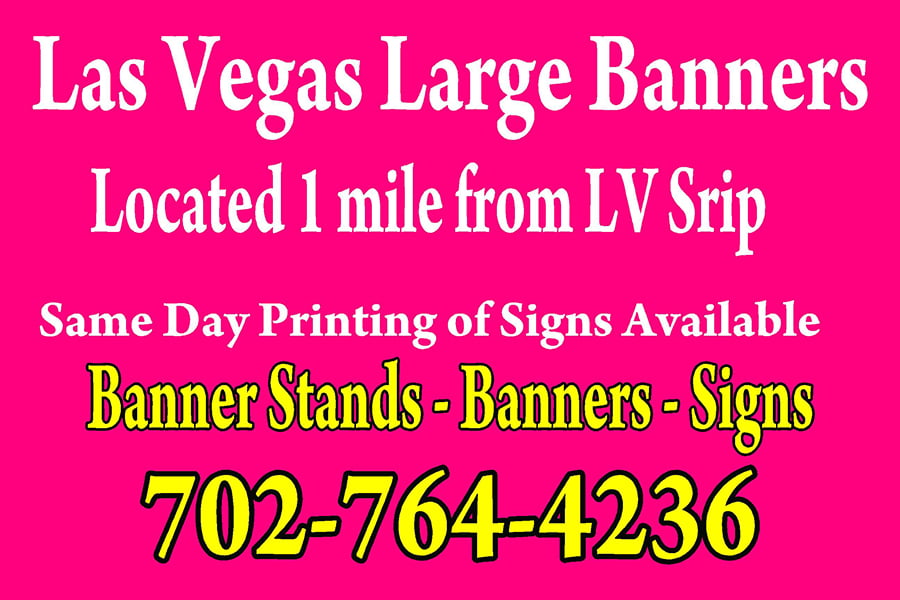 What Are Double-Sided Foam Board Signs?
Las Vegas foam board signs are lightweight, rigid displays made from a foam core with a outer paper coating which allows the sign to be printed on. While usually the foam boards are printed on one side only and placed on easels or table tops. Double sided foamcore signs allows for the signs to be hung from the ceiling. Or the double sided signs can be placed into a sign stand. This allows for a sturdy yet lightweight board that can be easily transported, hung, or displayed in many types of settings. The two sided foam board printing allows you to convey your marketing from multiple angles. So thus ensuring maximum visibility to the attendees at your event.
The Las Vegas foam board signs do not have to have the same design printed on both sides. In fact, many companies displaying at the event venues will have one side printed with products and the other side printed with different products. So this way they hope to maximize their marketing efforts. Because the trade shows and events in Las Vegas bring people from all countries. Many times the company will print one side of the sign in English and one side in a foreign language. So this way if the main people coming to the show are Chinese. These Chinese people will be able to read your foamboard sign.
Placing a Qr code on the foam signs will also help market your products or company. As many of these people are technology junkies and love new technology. So when they scan the QR code, they can save your company information.
Qr Codes are good For Signage
The QR codes on your trade show signage also allows for people to download your company information and translate it into their own language. So thus increasing the spread of company and products.
Foam Board Signs Are Very Versatile
There are many uses for foam board signage. Not only are they used a lot at trade shows and conventions. Retailers like t use these signs at their Las Vegas businesses. Whether indoors or outdoors, events or trade shows. These foamboard signs make for great displays. So they are easy to use and display. They can be mounted on walls, suspended from ceilings, or placed on stands. Which makes them a versatile sign that can be used in many different setting. The foamboard signs are also cheap in price.
Advantages Of Using Foam Board Signage
Cost-Effective: In comparison to heavy duty sign options, double-sided foam board signs are very cost effective. This sign affordability makes them very popular with retailers and displaying companies at the many Vegas event venues. Their low cost is definitely an appeal to smaller businesses competing at these events. The signs can be used and then simply thrown away afterwards.
Foam Board Signage is Light weight and Easily Transported: Transporting and setting up Las Vegas signs can be a hassle. But double sided foam board signs are lightweight and easy to carry and display. They are very lightweight and allow you to hang or display yourself without the need for expensive labor.
Customizability: Foam board signs are easy to print on and can be customized for your marketing needs. Your signs can be full color. So thus foam board printing can be performed in any combination of colors. Pictures and images can be printed on the signs as well.
Eye-Catching: The smooth surface of foam board signs offers you a vibrant background for your pictures, images and text. The new large format printers can print with amazing quality. So thus bringing your foam core board signs alive. Getting attention is the purpose of these Las Vegas signs.
Double the Sign Impact: Because your design is printed on both sides of the sign, you can communicate effectively your marketing message from different angles.
Fast Turnaround: The fast foamboard printing allows your signs to be ready fast. It usually takes a day or two to make a foam sign. But same day foam board signs and next day signs are available at many of the sign shops that service the trader shows and conventions.
Designing Your Double Sided Foam Board Signs:
Simplicity of Sign: Keep your design clean and space to make it easy to read. Too much information can overwhelm customers and turn them off. Make the sign simple. As people are tired and making it easier to read will increase peoples attention.
Colors: Utilizing bright and vibrant colors will draw attention to your foam board signage. People are attracted to vibrant colors. Also high contrast catches people's attention and makes the marketing message stand out better.
Branding: Incorporate your brand colors into your design. Use your logos and product colors to maintain consistency in your signage. So people will remember your colors and it helps with branding.
Conclusion
Double sided foam board signs are gaining in popularity. These cost effective signs are great for retailers and companies displaying at the event venues. Many of the companies will order these custom foam board signs ahead of time. So then simply pick them up in Las Vegas when they arrive. Or have them delivered to their event venue. So this saves a lot of money on unnecessary shipping. it also makes sure that nothing happens to your signs during the shipping process. As many trade show signs and trade show banners get damaged while being shipped into Las Vegas.