Custom tradeshow signs Las Vegas are being displayed at the many conventions and exhibitions in Vegas. So custom trade show signs will get you those roll up banner stands, foam core board signs and poster banners. All these types of signs can be custom printed with your design. The signs are all full color. So that allows for multiple color printing on your signs. As well as Vegas sign printing of images and pictures on your signs.
Millions of people come to Vegas annually for the many conventions and trade shows. These events number in the hundreds as Las Vegas is a very popular destination for events and shows. Every body likes to come to Vegas for all the fun and festivities. While the rest of the country is usually knee deep in snow during the winter months, Las Vegas has moderate weather. Also with three large modern convention venues, Vegas is a great choice to hold your event. Many signs and banners are used at these events. Many sign companies are located in Vegas for this very reason. These sign companies in Vegas have state of the art printers capable of printing signs and banners fast. Also with very high quality.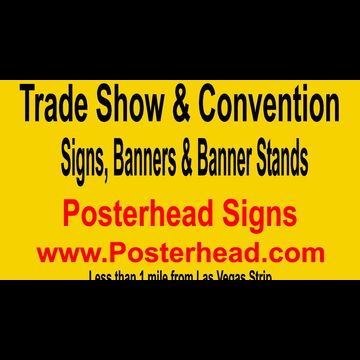 Companies At Trade Shows prefer There Custom Tradeshow Signs Las Vegas Be Made In Vegas
Many companies displaying their products and ideas at the trade shows prefer to have their signs made in Las Vegas. They do not trust the delivery companies to deliver the signs on time. As many times the signs show up damaged or not at all. So the companies scramble to find a sign shop to print new signs. Also the delivery and shipping of the signs is expensive and why waste money when you can have the sign made in Vegas just as cheap.