Custom retractable banner printing is necessary for the many trade shows and events held in Las Vegas Nevada. Las Vegas is the "King" of trade shows and conventions. As everybody wants to hold their event in Southern Nevada. There is so much entertainment to be had before and after trade show events. So Las Vegas also has three major convention venues to hold the biggest and best conventions in the world. In fact, many of the top conventions and trade shows come annually to Las Vegas. These conventions include SEMA, Consumer Electronic Show and World of Concrete.
These events alone bring hundreds of thousands of visitors to Southern Nevada. The trade show events bring hundreds of thousands of businesses and vendors. Displaying the newest technology and products available. Many retractable banner stands, foam board signs and backdrop sign displays are needed for these events. The businesses like to use local sign shops in Las Vegas. Because it saves a lot of money on expensive shipping costs. Also it makes it easier to show up for an event knowing that your trade show signs are ready for pick up or delivery.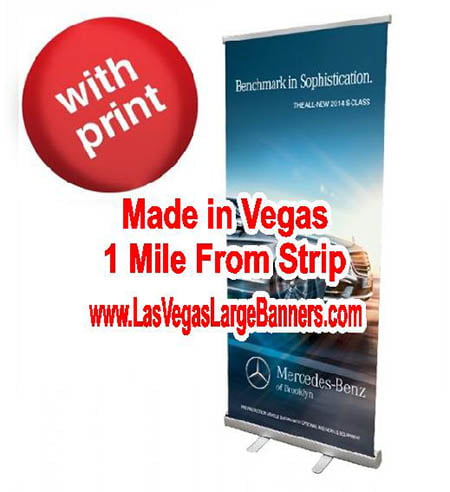 Benefits of Custom Retractable Banner Printing
Custom retractable banner stands are incredibly versatile. So whether you need to promote your business at a trade show or convention, these pull up banners have got you covered. So these roll up banner stands can be set up in a minute or so and easily moved around. The banner stands are self standing, which means they can be placed anywhere. The pull up banner stands all come with a carrying case. So that allows you to be able to walk into an event venue with your sign and set it up. you do not need to hire expensive union labor.
Maintaining brand consistency is crucial for building a strong and recognizable brand identity. Custom retractable banner stands allows you to incorporate your brand colors, logo, and messaging into standard messaging. This consistency helps reinforce your brand in the minds of your audience. So thus making it easier for them to remember your business based on the color palette.
In the world of trade shows, grabbing attendees attention is half the battle to having a successful show. Retractable banners provide a large sign for your marketing message. So thus ensuring it doesn't go unnoticed. Utilizing vibrant colors will attract attention of the attendees and draw them in. Using simple text will allow everybody to understand your marketing message. A simple font makes the sign message easily readable. So after a day of walking around a conventions. Attendees need simplicity to be able to understand your signs. They are tired and you need to make it easy on them. Adding a QR code to a banner stand also allows people to retain your information for retrieval later.
More Benefits of Retractable Signs
Compared to many types of advertising, custom retractable banner printing is a cost-effective option. Once you've purchased a Las Vegas banner stand, you can use it at many different events. The banner stand is long lasting and comes with a carrying case.
Setting up a Vegas banner stand is easy and takes very little time. The banner retracts into a compact, portable base that is easy to transport and store. When it's time to display you trade show sign, simply extend the banner, lock it in place, and you're ready to go. The banner stand is light weight and can be moved around very easily to find that perfect spot. Plus the Las Vegas banner stand has a telescopic pole for height adjustment. So you can find that perfect display height and adjust the banner graphic. By setting the banner stands up yourself, you save a lot of money on unnecessary union labor.
Investing in a quality custom retractable banner means you're investing in durability. These pop up banner signs are designed to withstand the wear and tear of regular use. So thus ensuring they look great even after multiple events. This longevity means you won't have to replace your trade show pop up banner often. Thus giving you a great return on your advertising dollar spent.
Las Vegas Banner Stands Come In Many Sizes And Shapes
The most popular banner stand in Vegas is the 33×78 sign. This allows for banner stand printing of about 17 square feet of space. The banner graphics can be full color. Meaning you can have as many colors and pictures on your banner graphic as you like. The retractable banner stands generally come in sizes ranging from about 2 feet wide to around 5 feet wide. So the banner stand signs also come in varying heights. But the telescopic pole they come with allows for height adjustment.
The Las Vegas retractable banner stands also come in economy and deluxe versions. So both versions are available for display. So many times a banner stand is proprietary to one event and then thrown away after the event. Why spend a lot of money on a banner sign you intend to use for three days and throw away.
Double sided banner stands are also available in Las Vegas. These double sided signs allow you to put your banner stand in a aisle so people from both approaches can see your marketing message.
Conclusion
Custom retractable banner printing is a powerful tool for businesses and vendors at the trade shows and conventions in Las Vegas. These businesses are looking to elevate their brand and stand out in the competitive world of marketing at events and shows. The signs are one of the most popular types of trade show signs used at the venues.
Las Vegas sign companies located near the convention venues offer fast pick up of the trade show signs. The sign shops can also arrange for delivery to your hotel or event venue. Many of the businesses prefer to have their signs made locally to avoid hassles in shipping the possibility of having signs damaged during shipping.