Best Vegas tradeshow popup signs will make your tradeshow display booth look great. So why not have a first class appearance at your opportunity to showcase your company at the event venues ? Tradeshow pop up sign displays are used at these events. And the vendors and companies showing off their products and services love these signs. The popup sign displays are portable. So that means you can move them around. The popup signs are self standing. So they can be placed anywhere in you display booth.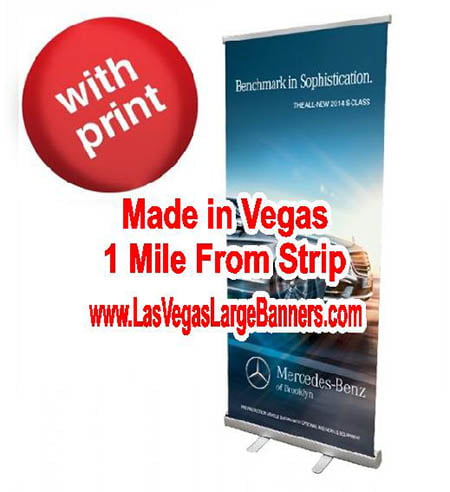 There Are Many Types of Best Vegas Tradeshow Popup Signs
Las Vegas banner stands are one of the most popular popup sign banners used at the event venues. These pull up banner stands are inexpensive and come in a variety of sizes. The most popular pop up banner stand is the 33″ x 78″ banner stand that sells for $125.00. This banner stand has a telescopic pole for height adjustment. So this allows for the sign graphic to fit perfectly on the stand. The designer of the sign graphic does not have to allow for bleeds.
Trade show sign displays are also pop up signs. These sign displays are purchased in a kit form. The 8ft tradeshow displays and 10ft tradeshow displays are a self contained graphic. The kit comes with a travel bag and an aluminum frame. So the fabric banner print fits over the frame and fits snugly. So this allows for a wrinkle free appearance. The pop up displays are easy to set up and take about 10 minutes. You can also just replace the fabric banner instead of replacing the whole kit. So this a lot of money.
Your local Las Vegas sign company will have more information on these tradeshow pop up display signs. Give them a call today to see how they can help you with your sign graphics.