20ft tradeshow display Vegas are great for large trade show booths. These cheap 20ft trade show display signs are easy to set up and will make an impression on your customers. The display signs take only about 10 minutes to set up. The whole set up comes in a kit with a travel bag. So that makes for easy transportation to the event. No union labor is needed to put up the display. So it is simple and easy.
The 20ft backdrop signs are easy to set up. A frame comes with the kit that assembles. So then a fabric full color banner is pulled over the frame and zipped shut. So this allows for tension on the fabric banner. As a result of this tension, the banner is slightly stretched making it wrinkle free. The 20ft display sign is taken down very easily and is placed back into the nylon bag that comes with it. The bag is light enough to be carried into a convention venue. So this will save money on expensive union labor.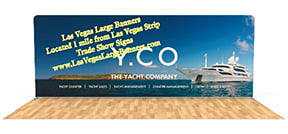 The 20ft Tradeshow display Vegas is a Full Color Sign
The trade show backdrop 20ft display sign is a full color sign. The fabric banner is a polyester material that allows for a small stretch. So this mall stretch allows it to be wrinkle free. The full color print allows for as many colors to be printed on the fabric banner as you like. So in addition pictures and images can be printed on the fabric banner. Your company logo and text can also be printed on the banner.
The fabric banner is machine washable. So after every event it can be cleaned and looking like new. Instead of buying a new convention 20ft backdrop display. You can simply buy another fabric banner and use the existing hardware and save a lot of money. Your local Vegas convention sign store will have more information on these options.