1 day retractable banner stands are available in Las Vegas. So this is because Las Vegas has many sign shops that service the casinos and tradeshows. The casinos attract millions of people every year. So they are in constant need of Vegas banners and Vegas signage. The Las Vegas casinos are constantly doing promotions and need promotional signs. The Big Game just took place and the casinos were promoting football. Hundreds of Vegas signs and retractable banners had to be made for the events.
Retractable banners are also popular at the conventions and shows held in Las Vegas. There are literally hundreds of these shows held in Las Vegas every year. The vendors and companies come from all over the world to display their goods and services. So this in return attracts millions of people from all over the world to find information on the latest products. So many convention signs and banners Vegas are needed for these events. Signs such as foam board signs, backdrop banners and banner stand displays.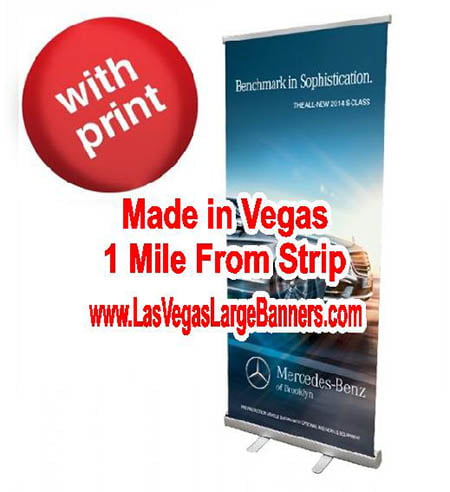 1 Day Retractable Banner Stands Are Not Expensive
The most common trade show banner stand used at the venues is the 33×78 roll up banner. This roll up banner has about 17 square feet of printable space on it. So plenty of room for text and pictures of products with descriptions. The roll up banner stand comes with all hardware, carrying case and full color graphic. A full color graphic allows for printing of multiple colors including pictures and images. The banner stands also come in many other sizes to meet your marketing needs. They range from around 3ft wide to around 5 ft wide.
So contact your local sign company located near the convention venues for fast turnaround banner stands and signs. These sign shops near the venues have the latest sign making equipment to make a quality sign.