Wholesale retractable banners is a great search term to use when you are trying to find cheap banner stands Vegas. So after all, why pay retail when you can get wholesale pricing on retractable banner stands. With a huge demand in Vegas for banner stands due to the events and shows. Many retractable banners are needed for these events.
The vendors and businesses that are displaying at these event venues like the stand alone banner signs. So these pull up banners can be placed anywhere as they are self standing. No support is needed for the banner stand signs to be displayed.
The tradeshow banner stands are full color signs. So that means your Las Vegas sign printing shop can print as many colors on the banner graphic as you like. The color schemes are endless. So this also means that you can print pictures of your products on the graphics in order to help promote your products.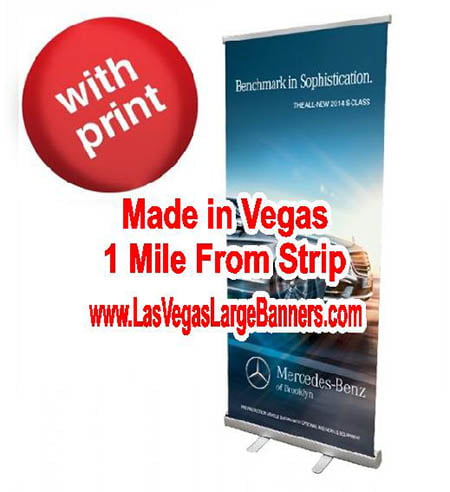 Wholesale Retractable Banners Come In Many Varieties
The 33×78 roll up banner stand is the most popular banner stand sign in Vegas. This model is 33″ wide by 78″ tall and sells for around $125.00. ( With discounts on large numbers ) The banner stand has about 17 square feet of printable space. So allowing you lots of room for text and pictures. Many of the vendors and companies at the event venues will print their products on these banner stands with details about the products. So this allows people to read about your products until the sales reps can get to them.
Other popular size retractable banner stands are the 33 x 80 model and 36×92 model. SO then there is also the 45″ wide model x 78 " tall that sells for around $150.00. All the banner stands come with hardware, banner graphic and carrying case.