Wholesale Las Vegas banner stands are available in the Las Vegas area. Cheap retractable banner stands are made with the same commitment to quality as regular banner stands. But when you buy many retractable banner stand signs you should get a discount.
The wholesale banner stand signs come in many different sizes to accommodate your needs. The most popular banner stand is the 33 x 78 retractable banner stand that sells for $125.00. But if you were to buy many of the stands the sign shops would offer a discount. However with the rising prices of inflation, many times the banner stands costs go up. Hopefully the inflation will be contained.
So other popular Las Vegas banner stands are the 33 x 80″ deluxe banner stand that has a very impressive chrome base. Other options are the 57″ wide x 78″ tall banner stand and the 45″ wide x 78″ tall banner stand. Of course, other options are also available.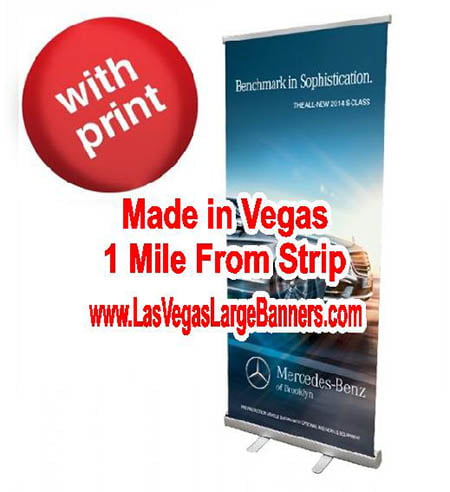 Wholesale Las Vegas Banner Stands Are Great For Conventions and Events
So millions of people come to Las Vegas annually for the many events and shows. Companies and vendors from around the world come to Vegas to display the newest products. Las Vegas has three very large convention venues with well over one million square feet to hold the biggest events in the world. So many signs and retractable banner stands are needed at the events. There are several sign stores located near the Las Vegas strip that can print and make these pull up banner stands quickly and at a great low price. Same day banner stand signs are also available in many cases. Just ask the sign shop about availability.
Your local Las Vegas sign store will have more information on these types of banner stands.