Vertical banner stands are a popular display graphic at the various shows and events in Las Vegas. These portable vertical retractable banner stands are easy to set up and take down. The banner stands are also portable. So you can place them anywhere as they are self standing. The banner stands come with a carrying case which allows for easy transport to and from an event. Set up time for a banner stand is about two minutes or less. All the retractable pop up banner stands come with a carrying case. So this allows for you to carry the banner stand into the event venue.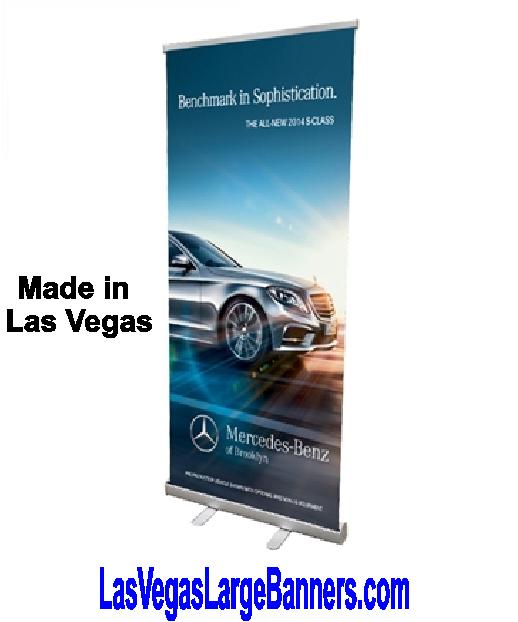 Vertical Banner Stands Are Inexpensive
A retractable roll up banner stand costs around $125.00. This is for the 33″ wide by 78″ tall model. This roll up banner stand has the premium height adjustment pole. So this pole allows for the perfect height setting for your banner graphic. The premium vertical banner stand sells for $165.00. This is for the 33″ x 80″tall model. So many other models are available to purchase as well. But the most popular vertical banner stand is the 33″ x 78″ and outsells the competition 15 to 1. Double sided banner stands are also available. These double sided banner stands make for great information signs or directional signage.
Stand up banner stands come with a full color graphic print. The inks used bring out the vivid and bold colors of your design. Pictures and logos can be printed on the banner graphics as well. So this means you can print just about anything you want on the graphic. The retractable banner stand signs also come with a carry case. Same day retractable banner stand printing of banner stands is also available in Las Vegas. Many times companies and vendors will come into Las Vegas for an event. And find out their display graphics were lost or damaged during the shipping process.
Your local Vegas Sign Banner Stand company will have more information about banner stand printing. Contact your local Las Vegas sign store today and learn how Vegas banner stands can help your marketing strategy. The banner stands have are cheap in price and make for great visual stimuli for clients. Best of all is they can be used over and over again. As they are long lasting. In many cases, the banner graphics can be swapped out instead of having to purchase a complete banner stand.