Vegas X stand banners are a simpler and cheaper version of retractable banner stands. These X stand banner stands allow for easy swap out of banners with the same frame. The X stand banner stands come in different sizes.
These x stand banner stands are used a lot at the various convention venues in Las Vegas. Each convention show can have a custom graphic made and used.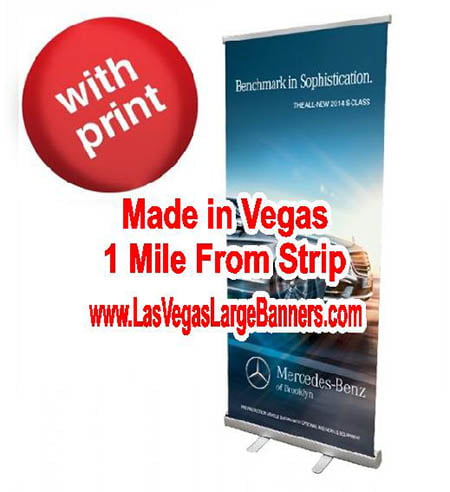 What Are The Most Popular Vegas X Stand Banners ?
The two most popular are the 24″ x 63″ X stand banner stand. Also the 32 x 72 X stand banner stand. These two popular banner stand signs are a low cost version of the retractable banner stand. With the added distinction of being able to swap out sign graphics very easy. You can simply have a x stand banner stand sign and have multiple graphics for it. The sign graphics are very easy to change out. Each graphic has a grommet in the four corners that correspond to the hooks on the x stand frame. So easy swap out of graphics is possible.
Graphic printing allows for full color prints. So printing of logos and pictures are no problem.
Same day printing of X stand banner displays can be possible. Also Large format printers capable of printing at very fast speeds are common in the sign industry. So with faster printing, more signs and banners are possible.
The 24 x 63 x stand banner stand is priced at $69.00. The 32 x 72 banner stand pricing is at $79.00.
Your Las Vegas sign store will have more information on these banner stands. Also they will have information on retractable banner stands and other types of signage. Contact your favorite shop today for more information on how these banner stands can help your presentation.