Vegas tradeshow popup signs are being used at the convention venues in Las Vegas. The vendors and companies showing off their products at these events love these popup display signs. So the vendors and companies find that setting up these popup signs and banners is easy. They do not have to hire expensive union labor to set up these sign graphics. So this saves a lot of stress on people coming to the trade shows and conventions. The people simply walk into the venue and set up their own booth in a matter of a few minutes.
Las Vegas banner stands are one of the most easy popup signs to set up. These pull up banner stands can be set up in about one minute by one person. The banner stands are self supporting. So that means they can be placed anywhere as they are self standing. The banner graphics are full color. So that means you can print as many colors on the graphic as you like. So this also includes pictures and images. Many companies will print product pictures on the banners. So that they can refer to the banner stands during the sales presentation.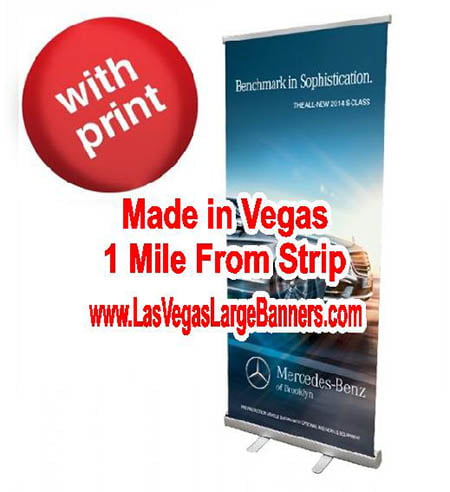 Vegas Tradeshow Popup Signs Come in Many Sizes
The popup banner stands come in many different sizes. The most popular tradeshow popup banner stand is the 33″ x 78″ model. This sign has almost 17 square feet of printable space. So plenty of room for pictures and text. The banner stands also come in many other sizes up to 45″ wide. Las Vegas tradeshow pop up displays also come in kit forms. The kits generally come in the 8ft, 6ft and 10ft sizes. However you can get a 20ft backdrop display as well. Your local Vegas sign company will have more information on these types of trade show signs.