Vegas tradeshow exhibit banner stands are being used a lot at tradeshows and events. The vendors and companies displaying their products and services at these event really like these banner stand signs. The banner display stand signs are portable. So they can be placed anywhere you like. So that makes them a very convenient graphic for an event. Also given the fact that they are very easy to set up. This makes them a favorite sign graphic for events.
The Las Vegas tradeshow banner signs are easy to set up and take down. So you do not need to use expensive union labor to set up your signs. You simply walk into the event venue with your banner stand and set it up in less than two minutes. The retractable banner stands come in many sizes to match your marketing needs. The Las Vegas pull up banner stands can be purchased in Las Vegas at very competitive pricing. So you do not have to ship them into Las Vegas for your event. This will save time and money. And who does not want to save money in these hard economic times. So it also takes away the worry that your shipping company will not deliver on time. Or worse that your shipper ends up damaging your signs.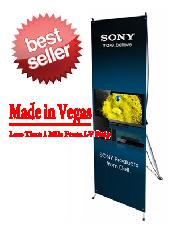 Vegas Tradeshow Exhibit Banner Stands Are Not Expensive
Las Vegas retractable banner stands are not expensive. The very popular and easy to set up 33 x 78 economy banner stand costs around $125 and can be made in just a day or so. Same day banner stand signs are also available in many cases. Companies displaying at the trade shows and event centers constantly have shipping issues. So they need to have their sign graphics replaced when they show up damaged or not at all.