Vegas standup banners are used a lot at events and shows held in Vegas. Thousands of companies and vendors come to Las Vegas annually for the many trade shows and conventions. So these events bring millions of participants from around the world. These shows drive the Las Vegas economy. Many of the companies are coming into Vegas for the events are bringing their own signage. At the end of the event they simply throw away the signs and head home. Trouble happens when the shipping companies do not deliver the signs to Vegas or deliver the signs damaged. In these cases, the signs and banners have to be replaced quickly and at a low cost.
Same day banner stand printing is available in many cases. So there are several Vegas banner sign shops that service the conventions and trade shows. These banner shops have state of the art printers that can print fast and at a very high quality. With faster printing the costs of production go down and banner stands become cheaper.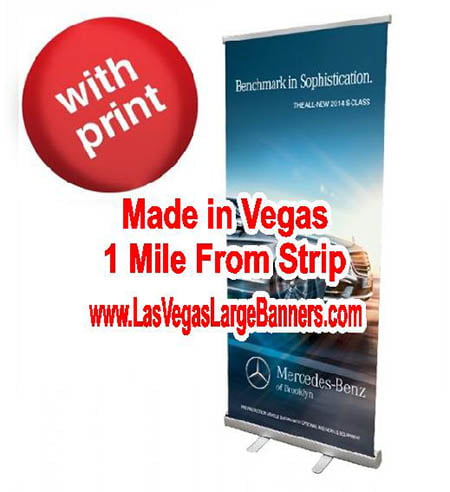 Vegas Standup Banners Are Not Expensive
The most liked banner stand size is the 33×78 retractable banner stand. This upright banner stand has 17 square feet of printable space for your marketing message. That is a lot of area for print. So the graphic can be made in any combination of colors and images can be printed on the banner stand graphic. The inks bring out your bright and vividness of your design. The inks are also environmentally friendly. These portable banner stands come with carrying case and print. They are easy to set up. Banner stands take less than a minute to set up.
Your Vegas sign store will have more information on retractable banner stands. So these banner stands can be made quickly and at a low cost.