Vegas Rollup Banner Stand signs are being used at the tradeshows and conventions. The vendors and companies showing off their goods at these events love these portable banner stands. So the portable roll up banner stands are self standing. So that means you can place them anywhere. Because they require no assistance to be displayed. Since tradeshow booths are cramped, being able to move the signs around means a lot.
The retractable banner stands come in many different sizes. The most common size banner stand is the 33 x 78″ tall sign. This banner stand sign costs around $125.00. So it includes stand, graphic and carrying bag. The banner stands are easy to set up. It takes about one minute to set up the pull up banner stand and about the same time to disassemble the sign. The stand come in different width sizes ranging from about 24 inches to about 60 inches wide. The banner graphics are all full color and pictures and images can be printed on them. The common 33×78 banner stand has about 17 square feet of printable space.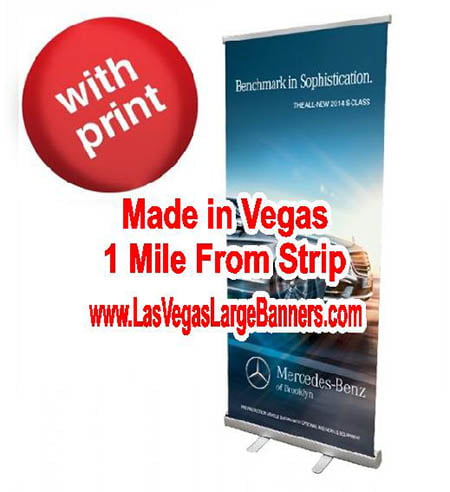 Vegas Rollup Banner Stand Signs Are Made In Las Vegas
Las Vegas banner stands are made right here in Vegas. There are several sign shops that have state of the art printers capable of printing these banner stands fast. The newer printers not only print fast, they print with higher quality than ever before. The banner stands can be printed on regular vinyl banner material or anti curl banner material. The banner stand signs can also be printed same day. Same day rollup banner stand signs are sometimes necessary when your banner stands get lost or damaged. Your local Las Vegas sign banner stand company has more info on these great tradeshow portable banner stands.