Vegas rollup banner stand printing gets those retractable banner stands made for your tradeshow or convention. Roll up banner stands are very popular at these events. The vendors and companies showcasing their products like the portability of these pull up banner stands. The banner stands are self standing which allows them to be placed anywhere.
The Vegas tradeshow banner stands come in many different sizes. These sizes range from about 2ft wide to around 5 feet wide with varying heights of 78″ to 92″ tall. The most common rollup banner stand is the 33×78 banner stand. So this pull up banner stand has about 17 square feet of space available for design printing. So it is quite big and can deliver a lot of information. Since the banner stand is usually looked at up close, there is lots and lots of room for pictures and text. Many companies and sellers at the convention venues will print pictures of their product lines on the banner stands. So this way they make it easy for everybody to see what products or services they are providing. I have walked by many of convention display booths with no clue as to what they are promoting because they lack signage.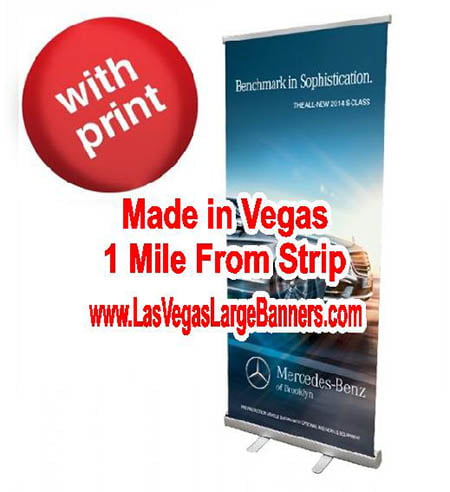 Vegas Rollup Banner Stand Printing Is Not Expensive
Las Vegas retractable banner stands are not expensive. The cost of the 33 x 78 pull up banner stand as listed above is about $125.00. So this includes graphic print, hardware and carrying bag. The banner graphic is a full color print. The carrying case allows for easy transportation to the event centers and convenient storage. The retractable banners only take a minute or so ti set up.
Las Vegas banner stand printing can be found at local Vegas sign stores that service the conventions and trade shows. These sign shops are generally found close to Las Vegas Blvd and the convention venues for fast pick up or delivery.