Vegas retractable rollup banners are popular at the trade shows. Las Vegas is host to hundreds of trade shows a year. At these events, many signs and banners are needed for display purposes. Millions of people come to Vegas for the purpose of attending these conventions. Stand up banner stands are one of the most popular display graphics. The inexpensive 33 x 78 banner stand has almost 17 square feet of printable space. So this space can advertise a lot of products. The graphics are full color. So you can have lots of colors printed on the banner signs.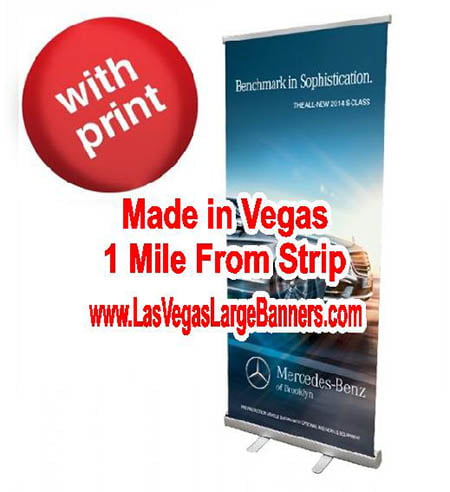 Vegas Retractable Rollup Banners Are Affordable And A Good Value
Retractable banner stands start off at about $125.00 for a 33×78 banner stand. This banner stand comes with frame, graphic print and carrying case. So it comes complete ready for use. Also, the graphic print is full color and logos and pictures can be printed on the banner.
Many other banner stands are available as well. The deluxe version of the economy stand is the 33×80 stand. This model comes with a chrome base that looks most impressive. Need a wider display graphic ? The 36×92 deluxe banner stand offers about 23 square feet of printable space. The 45″ wide x 78″ tall banner stand offers over 24 square feet of graphic space. All banner stands come with a telescopic banner pole. This allows for height adjustment of the stand. So you don't have to use the full height of the stand. You can have a graphic smaller than the height requirement.
You can find a Las Vegas Yelp 5 star banner stand sign store to print your Vegas banners. But generally they are located near the convention venues. Many sign companies service the conventions and trade shows and locate adjacent to the venues. This allows for fast pickup or delivery of sign graphics. Shop around the Las Vegas sign stores for the best deal on your signs and banners.