Retractable Banner Stand Signs are being used at convention venues. Vendors and companies displaying at trade shows and conventions love these portable banner stands. The pull up banner stands set up in a minute. Also because they are self standing, they can be placed anywhere. So these portable banner stands can be moved around your display location with ease.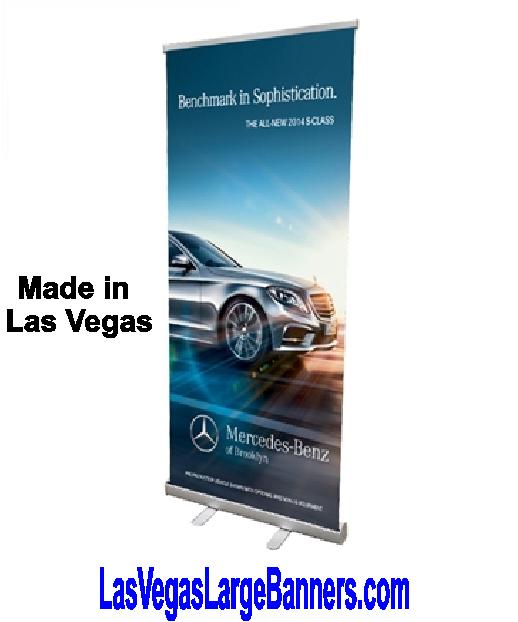 Retractable Banner Stand Signs Are Very Popular at Conventions.
These roll up banner stand signs can be seen at the Las Vegas Convention Center. Also at the other major convention venues Like Mandalay Bay Convention Center and Venetian Expo. Vendors like the fact that portable banner displays and can be printed with lots of information. The economy banner stand sells for around $125.00 and has about 17 square feet of printable space. This printable space can be full color graphics. Also logos and pictures can be printed on the banner stand signs.
The deluxe retractable banner stand ( 33″ wide x 80″ tall ) sells for around $165.00. This banner stand looks very impressive with its chrome base. It also has about 24 square feet of printable space for information. Also, all the banner stands come with a telescopic pole for height adjustment. So this allows for the perfect height adjustment of your graphic.
Also all retractable banner stands come with a carry case . So as to make transport easy. This black nylon case allows for easy transport of your banner stand signage. You can literally walk into a convention center with these signs without union labor carrying them for you. The retractable banners are easy to set up.
Las Vegas retractable banner stands are available at the best sign stores in Vegas. These sign stores service the convention and trade show industry. They can be found near the convention venues for fast pick up and delivery. The standard turnaround time is two days. However, banner stand same day printing is available in many cases. Call you local Vegas sign store for more information.