Vegas pullup banner stand printing will get you those very popular pull up banners printed for your event. Las Vegas pull up banner stands are wildly popular at trade shows and conventions. So this is because the banner stands are self standing and can be placed anywhere. The banner stands are cheap enough where you can use them for one event or show and then simply toss them away at the end. You do not have to pack them up and ship them back to the office. Of course the banner stands can be used many times if you choose to do so. All the retractable banner stands come with a carrying case for easy transport. Setting up the banner stands is easy. So it only takes a minute or so to set up and another minute to take it down.
Las Vegas Tradeshow banner stands come in many sizes to meet your marketing needs. The most economical stand up banner stand is the 33″ x 78″ banner stand. This model has almost 17 square feet of printable space. So pictures and text can be printed on the banner graphic in any color you like. The convention banner stands also come in many other sizes ranging from around 2ft wide to all the way to almost 4 feet wide.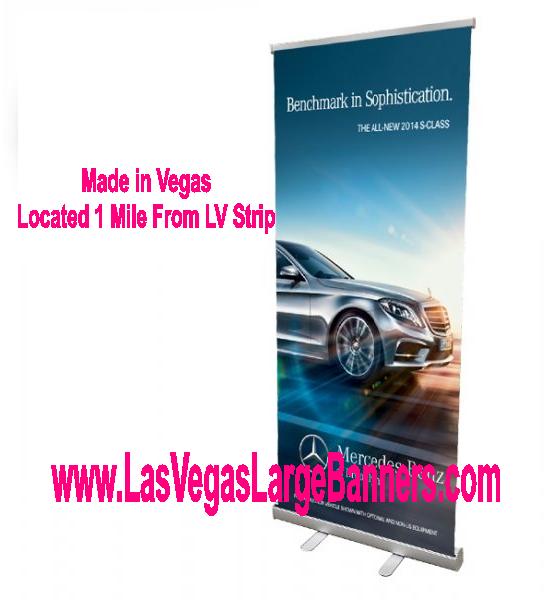 Las Vegas Pullup Banner Stand Printing is Not Expensive
Tradeshow Banner stand printing is not expensive. The economical 33×78 banner stand sells for about $125.00. It just takes a few days to make. Also the banner stand can be printed many times the same day in cases of emergency. Signs and banners are always getting lost or damaged at the convention venues and need fast replacing. Same day signs and same day banners are available in many cases. Your local Las Vegas sign company will have additional information about pullup banner stands. These sign shops are generally located near the convention venues and Las VEgas Blvd.