Vegas pop up banners are popular at events held in Las Vegas. So these pop up banner stands are compact and are self standing. Because they are self standing, they can be placed anywhere. That gives them portability for placement. Vendors and companies displaying at Vegas event venues like that option. Because they are compact and roll up, the retractable banner stands are easy to set up and take down. So set up is easy and takes about one minute to fully set up the banner sign.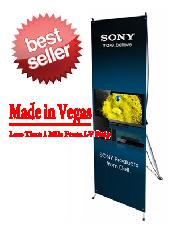 Vegas Pop Up Banners Work Great At Event Venues
Retractable banner stands Vegas come in many different versions. The economy 33×78 is the most popular model. This banner stand sign includes graphic print , stand and carrying case. The cost is around $125.00. Other models are available ranging to around four feet wide. So the premium 36×92 banner stand sells for a little over $200.00. All these banner stands come with the option of printing on anti curl banner material or 13 ounce vinyl banner. The anti curl banner material has a very smooth finish and looks very impressive. But the downside is that the special smooth material is easily damaged if kinked. The 13 ounce vinyl banner material is much more forgiving.
Las Vegas retractable banner stands can be printed the same day. So Rush order signs are accepted at many sign shops that service the convention and trade how venues. These same day sign printing sign stores are generally located close to the Las Vegas Strip. This allows for easy pick up of the signs and banners. Also Lyft or Uber offer pick up and delivery of your signage as well. Since the sign stores are close by, the cost is very minimal. Contact your local Las Vegas sign company for more information.