Vegas event banner displays are in demand at the many events and shows in Las Vegas. Vegas is the place to go for a trade show or conventions. Because we have the best venues and plenty of things to do. Las Vegas has three major event venues with well over one million square feet of space. So this will hold the biggest and best events and shows from around the world. In fact these event venues are so large that multiple shows can be going on at the same time under one roof. These event venues are state of the art.
There are hundreds of shows and exhibitions every year in Las Vegas. So these shows attract thousands of vendors and companies who show off the newest products and gadgetry. In return millions of people come to Las Vegas specifically for these events. After the events the participants get to have fun in Vegas.
Many tradeshow backdrop displays and banner stands are needed for these shows. The vendors and companies like to have their signs and banners made in Vegas to save shipping costs. In addition they know that their signs are waiting for them when they arrive. So often the shipping companies entrusted with signs do not show up on time or show up with damaged goods.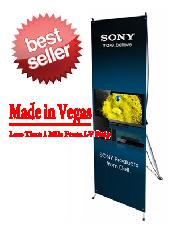 Vegas Event Banner Displays Are Not Expensive
There are many sign shops in Vegas that service the trade shows and events. These sign shops are located near the convention venues and Las Vegas Blvd. So this way delivery or pick up of your signs can be done quickly. The sign shops are set up with modern sign making equipment to get your Vegas signs and banners printed fast with high quality. Check with your Vegas sign company for specials and more information on event signs and banners.