Vegas convention roll up banners are being used at tradeshows and conventions in Vegas. The vendors and exhibitors like these portable banner stands. The Vegas Convention pull up banner stands are self standing. So this means they can be placed anywhere in your display booth. A s they require no attachment or support to be displayed. The banner stand graphic is rolled up into a compact frame. So then extended straight up, it takes up very little space. The banner stand is easy to set up and only takes a minute or so.
Las Vegas retractable banner stands are one of the most popular sign graphics used at the various events and shows. The companies like the low cost convention signs as many times the signs are made for one specific event. So why spend a lot of money on signage that will only be used two or three days and then tossed away in the rubbish.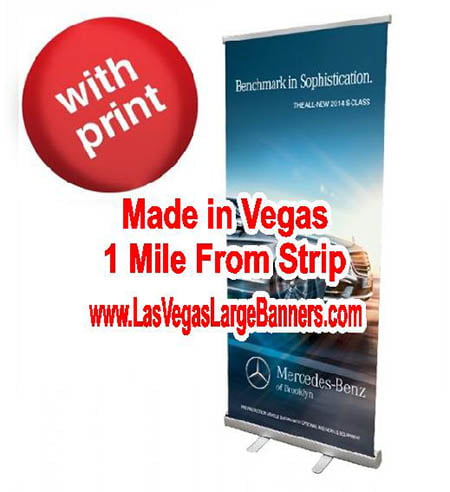 Vegas Convention Rollup Banners Are Not Expensive
The most popular tradeshow banner stand is the 33 x 78 banner sign. This economy banner stand sells for about $125.00 and can be made very quickly. Normal turnaround time is around 2 days. But Vegas same day banner stands are very possible in a 24 hour town. The 33×78 economy banner stand comes with all the hardware plus sign graphic. The sign graphic is a full color print. So this means you can have as many colors and images printed on your sign as you like.
The banner stands Las Vegas come in many other sizes to meet your marketing needs. There are many Vegas sign shops that service the conventions and trade shows. So these sign shops are generally near the convention venues and Las Vegas Blvd. So this allows for fast and easy pick up of your signs and banners.