Roll up banner stands are used a lot at Las Vegas Convention Center. These roll up banner displays are easy to set up. Also, the portable banner displays are low priced. So this makes them a favorite for vendors and companies displaying at the trade shows and conventions. The banner stands are easy to set up and take down. So the portability offers versatility where they can be displayed.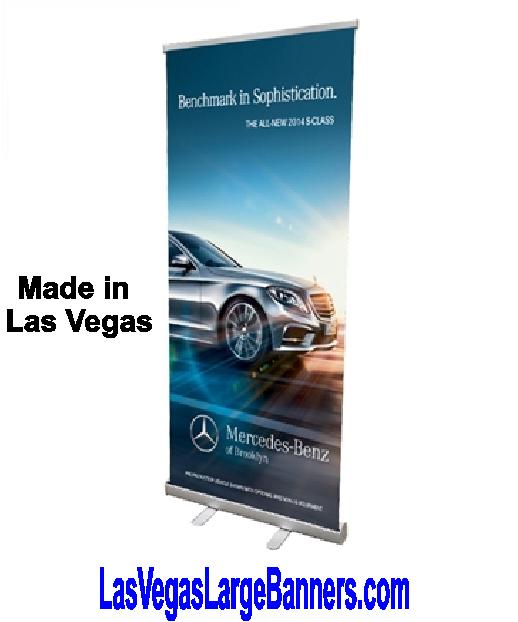 Are Roll Up Banner Stands Expensive ?
Retractable banner stands start off at about $125.00 and go up from there. The economy 33″ x 78″ retractable banner stand is sold for $125.00. This includes carrying case and print. This economy model retractable banner stand comes with a adjustable telescopic pole. So this telescopic pole allows for height adjustment. The deluxe version of an equivalent model is the 33″ x 80″ retractable banner stand. This pull up banner stand has a wide chrome base that is most impressive. Also, the deluxe banner stand is sold for approx. $165.00. Which is considered a bargain sign graphic. It offers a " great bang for the buck " .
Same day sign printing is available on many Vegas signs and Vegas banners for the conventions. Unfortunate events happen and many times signs and banner get lost. So in these cases, Vegas sign shops realize that they must help vendors and companies. After all, the show must go on. Vegas 5 star rated Google Sign shops are here to assist you. Generally these sign shops that service the conventions and trade shows are located near the convention venues.
Sign Designing Is Key To Success For These Banner Stands.
Keeping your design for the banner stands clear and concise is the key to a good sign. Legible text and fonts make the text easy to read. Utilizing top quality pictures reflects professionalism on your company and products. As nobody want to look at a pixelated picture. So poor quality pictures reflect poor quality products. The Use of vibrant colors attracts people to look at your signs and what you are promoting.
Fast pick up and delivery is possible because these Vegas sign stores are located close to the convention venues. Lyft or Uber can pick up the signs and deliver them to you via the cell phone app. This way, you can track the driver. So this way you can make sure you get your graphics.
Contact a Vegas sign store if you find yourself in need of banner stands. They can help you.